RepTrak® 2021
RepTrak® is the gold standard for measuring reputation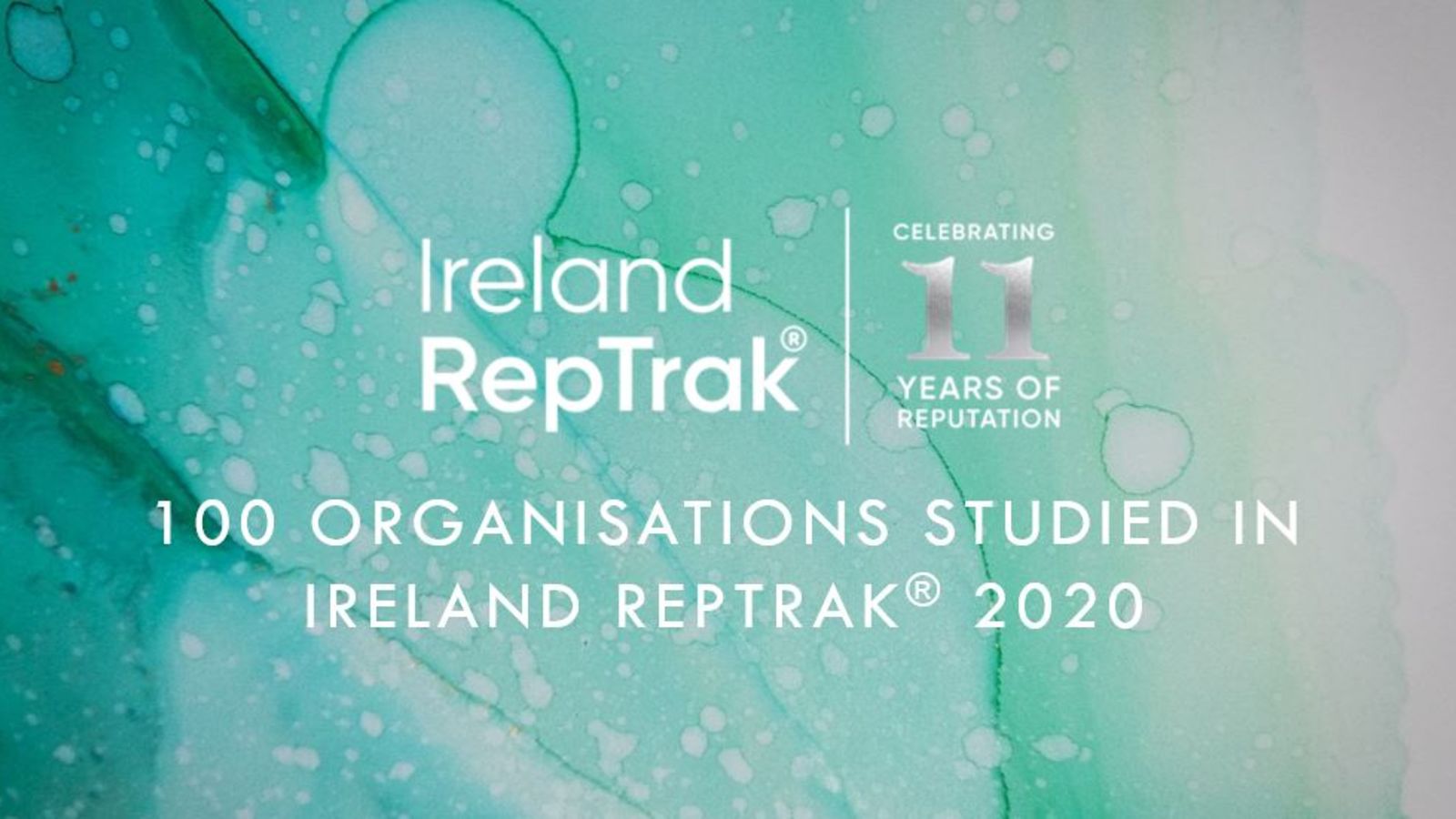 Reputation builds support with key stakeholders to deliver tangible business results
Our research shows how organisations with strong reputations and a meaningful purpose perform better as they are recommended by more people; they sell more products and services and are more likely to recover quickly in times of crisis.  Our Ireland RepTrak® research equips business leaders with high quality reputation data and insight, arming organisations with tools that raise brand awareness, achieve competitive differentiation, help recruit and retain top talent, and support post-crisis recovery.   Understanding and measuring your reputation is the best way to embark on developing a robust reputation strategy which can bring considerable commercial results.  The Reputations Agency can assist and support you in terms of auditing and building your organisation's purpose and reputation strategy. 

Using the gold standard RepTrak® model, our customised reports inform communications and operational strategy
Ireland RepTrak® Pulse Report
The Annual Ireland RepTrak® Q1 Pulse Report delivers the results of twenty-five questions measuring the emotional and rational health of your reputation along with how supportive the public are of your organisation across a range of scenarios, plus data from the previous four years, where available.
Annual Ireland RepTrak® Deep Dive report
In-depth report covering over 100 questions including the Pulse study questions, plus an analysis of the unique drivers of your organisation's reputation scores across the 23 attributes that underpin the seven drivers of reputation, and brand personality analysis. Analysis also measures communications strategy effectiveness, as well as your CSR strategy presented against chosen benchmarks.
RepTrak® Online Platform
A newly created online business intelligence platform which would continue to track reputation across markets, storing this data continuously on an online cloud-based Platform. This allows for access to real-time perception data, along with monthly updates, together with hands-on personalised strategic guidance and action planning sessions each quarter. 
The National Reputation Tracker 2021
Continuous reputation measurement throughout the 2021 calendar year, which rates your organisation against your chosen benchmarks. This monthly tracker is delivered in four quarterly Deep Dive reports accompanied by expert –led workshops.
Top 100 companies
We've studied the reputation of the largest, most familiar and most important organisations in Ireland across 17 sectors. These include Food and General Retail, Retail Forecourts, Financial Services, Communications, Media and Technology, Public Service bodies, Semi -state Commercial organisations, Healthcare, Professional Services, Energy providers, Sporting bodies and Airlines & Aerospace.
Request reports
Contact marna@thereputationsagency.ie or complete and return the request report form. To discuss anything about this year's study, contact Paul McSharry or Marna Harmey at 01 661 8915. We are happy to meet with you to discuss the study in more detail.
Request more information on our detailed Ireland RepTrak® 2021 reports
Complete the form below to learn more about our Ireland RepTrak® Pulse reports, Ireland RepTrak® Deep Dive Report, and The National Reputation Tracker that measure your organisation's reputation against benchmarks of your choice. Talk to us about our full suite of consultancy services including Multi stakeholder Reputation Audits and Reputation Strategy Development. We also Facilitate a Reputation Leaders Network. Fill out your details below and a member of our team we will be in contact with you.