Ireland RepTrak® 2022

Understand how your reputation builds stakeholder support and delivers business results ​
The Reputations Agency, with our global partners The RepTrak Company, will conduct our thirteenth annual Ireland RepTrak® study from January to March 2022.​
Every year, we survey over 7,000 members of the informed general public aged 18-64 throughout the ROI, measuring their perceptions of 100 of the largest, most familiar, and most important organisations in Ireland.  Ours is the largest normative database on organisational reputation in Ireland. ​
Only organisations who register for a RepTrak® report in advance will be able to access full results for their own organisation and their chosen benchmarks.  Please book before Friday 26th November as we must start programming on Monday 29th November 2021. Reports will then be presented to our clients from late April 2022 on a first-come, first-served registration basis. 

These are the 100 organisations that we will study in our Ireland RepTrak® 2022 Study: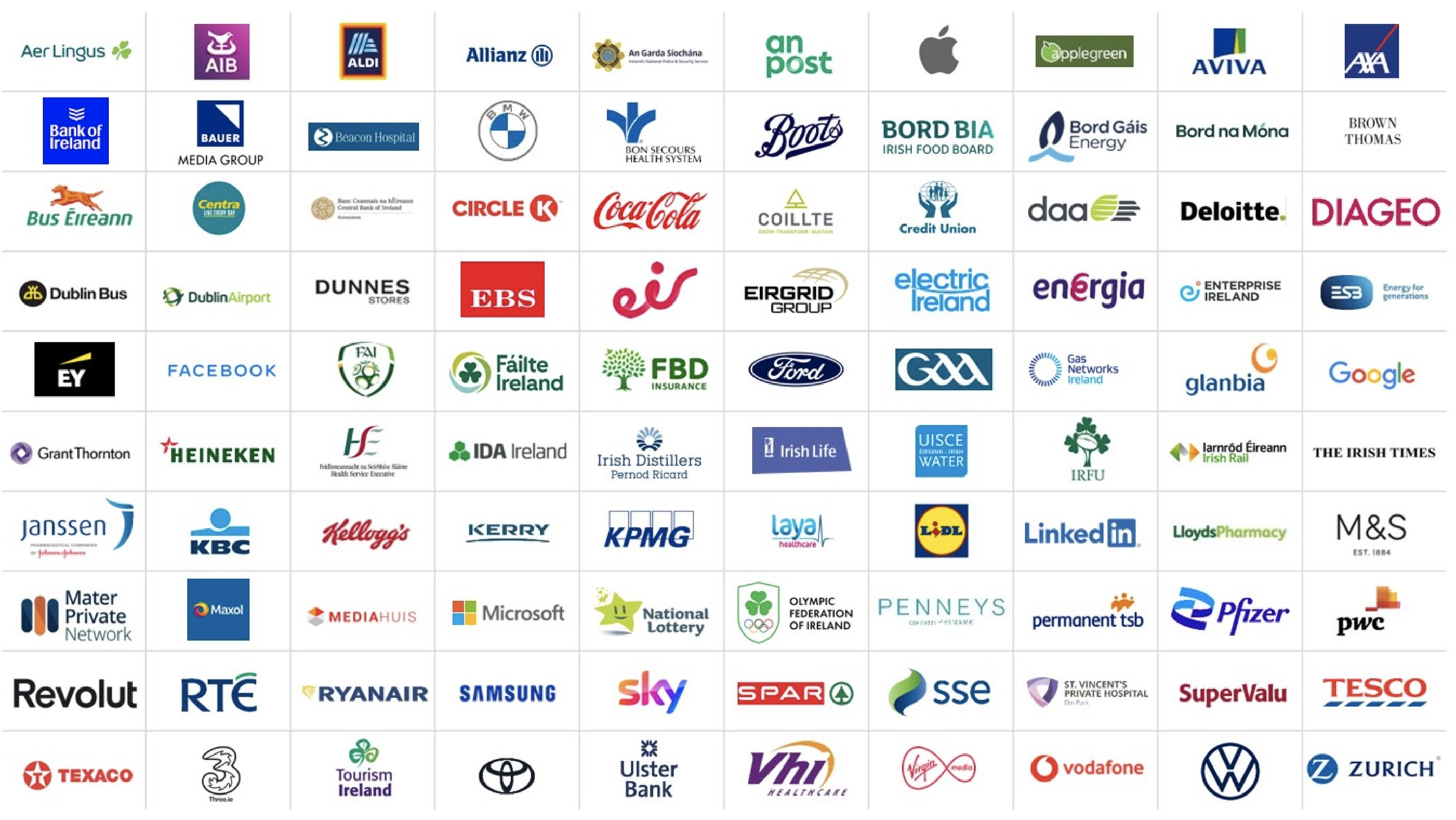 If your organisation or your chosen benchmark is not listed amongst the 100 that we will publicly study, we can include it in a private study which will run simultaneously, and your results will remain confidential to you.​
We offer two routes to access RepTrak® insights and strategic advice from our Reputation Management experts: ​
​1. NEW – the RepTrak® for Communications Programme ​
We now offer an holistic solution with on-demand Reputation data, actionable strategic advice, and an exclusive global peer network.  Our new RepTrak for Communications Programme has three components: ​
The first provides cloud-based access to online dashboards containing the full range of Reputation data delivered in our DeepDive reports.  We'll track your organisation and your chosen benchmarks continuously throughout the year and update all dashboards monthly so that leaders in your organisation can access the latest reputation intelligence at a glance.  ​
Secondly, you'll receive the advisory support of our Senior Reputation experts, through four quarterly consultancy sessions per year.  We add our expert perspective to your results and provide clear, actionable recommendations for your organisation to defend and build your Reputational capital.  ​
Finally, you will have unlimited access to exclusive international thought leadership and best practice case studies, delivered by our global partners at The RepTrak Company through exclusive events, white papers, and peer community networks. ​
We would be delighted to bring you through this exciting new Programme, including a live demonstration of the Reputation dashboards your team would be using.  Register to begin your annual subscription at any time, however 15% discounts apply if you register by Friday 26th November 2021.
2. Annual Ireland RepTrak® Q1 2022 DeepDive report  ​
An annual measurement of your organisation's reputation, using data from our Ireland RepTrak® Q1 2022 study.  We'll deliver a rich reputation audit report comparing your organisation with benchmarks of your choice across over 100 Reputation, Brand, Sustainability, Purpose, and Business Outcome metrics, including four years' longitudinal data, where available.  We'll also analyse the unique drivers of your specific organisation's reputation, and we'll provide you with a strong framework and actionable strategic recommendations for defending and improving your organisation's reputation.  In field in Q1 2022, results are delivered from late April – July 2022 on a first-come, first-served registration basis.  Early-bird bookings attract a significant 15% discount, and only organisations who register in advance will be able to access full results for their own organisation and their chosen benchmarks.  Please book before Friday 26th November 2021.  Three tiers available according to your requirements.

Client organisations regularly report RepTrak® KPIs at board level because Reputation is a proven leading indicator of future success.  Our research shows that propensity to buy, recommend, trust, work for, and give the benefit of the doubt all increase as an organisation improves its reputation.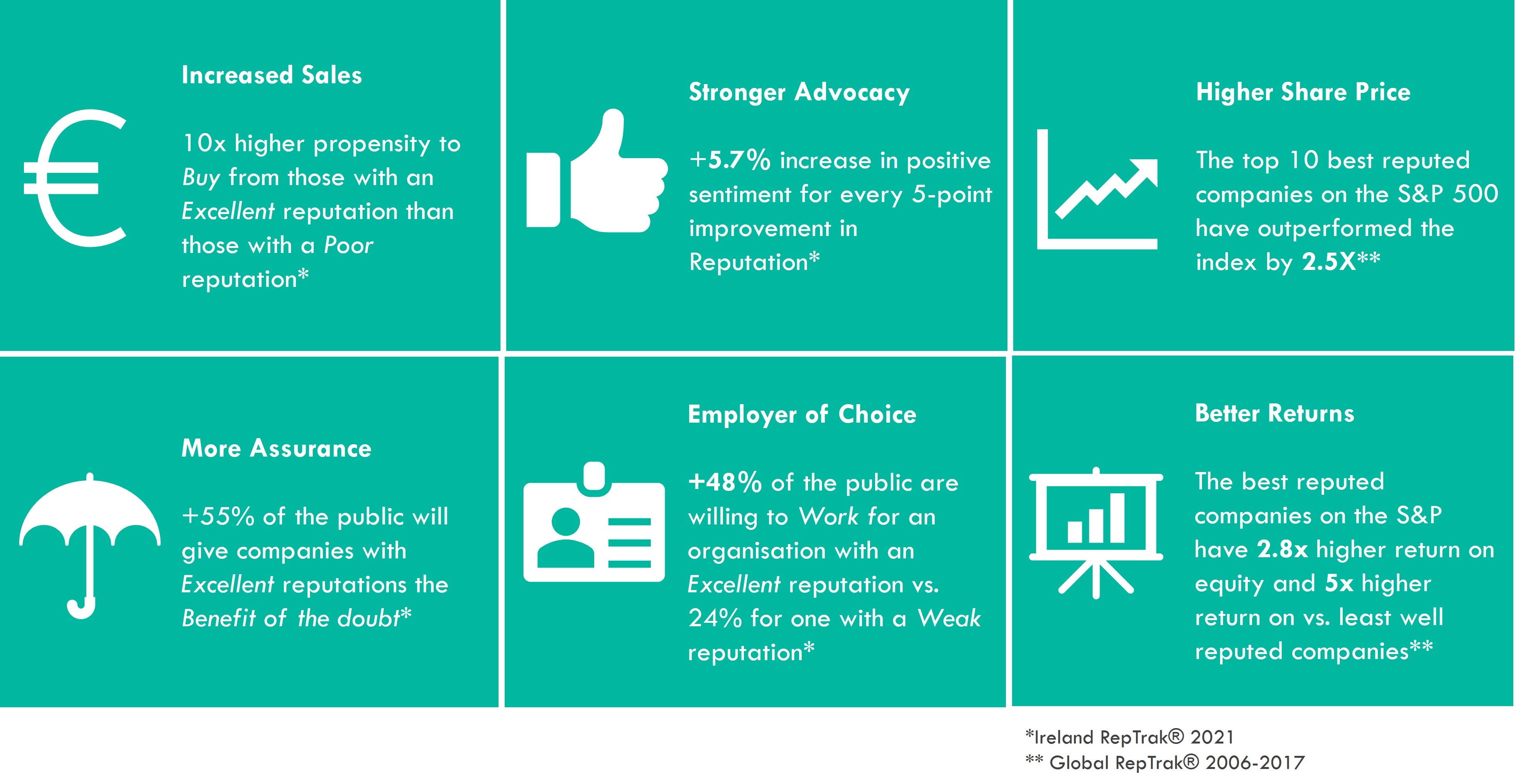 All of our offerings use the RepTrak® methodology, the global gold standard for measuring reputation and its business impact, and leverage our experienced Reputation Management experts to analyse your reputational position and provide actionable recommendations.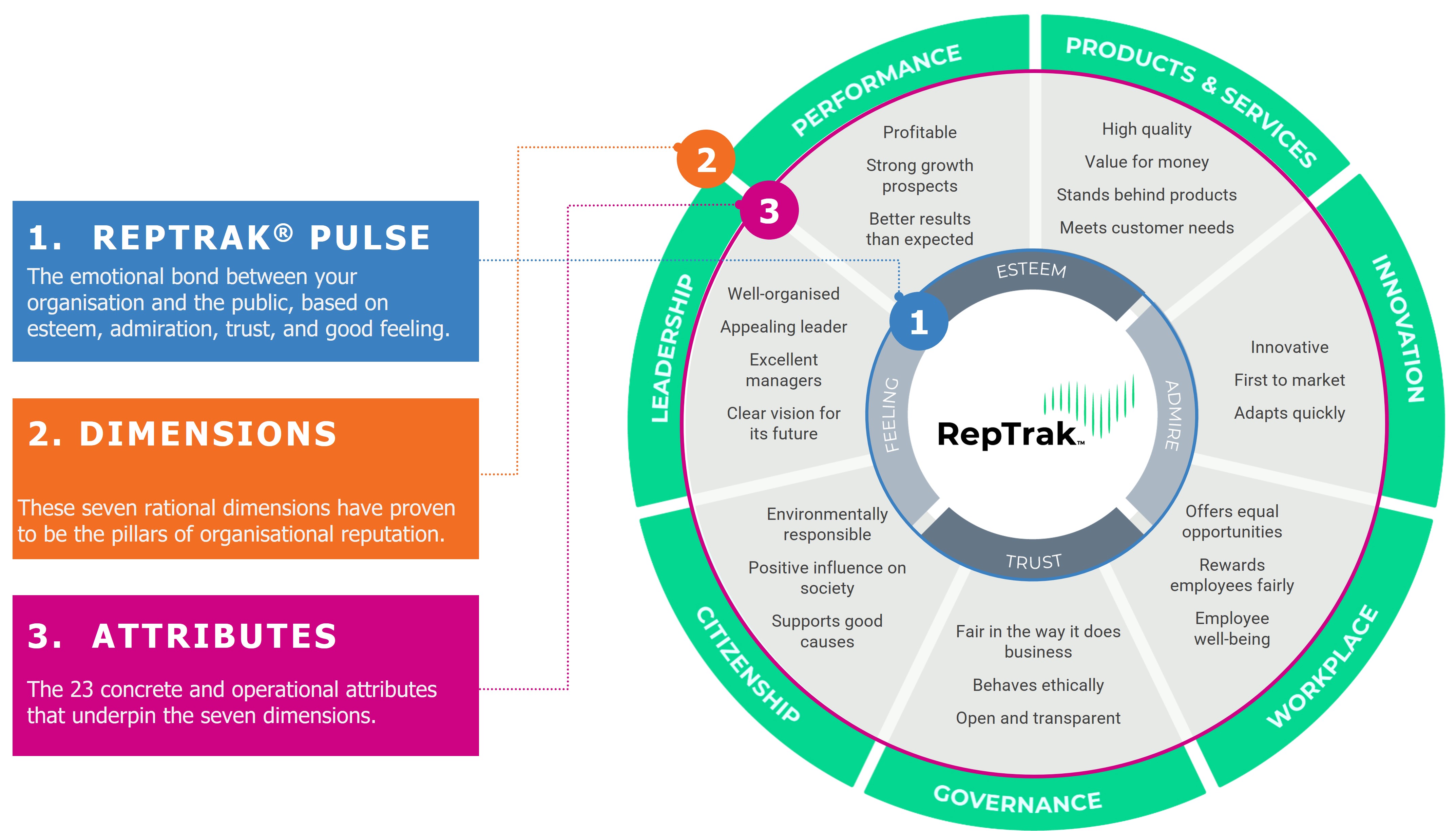 We have an holistic framework for diagnosing your reputational position, strengths and weaknesses, and evidence for strategies to defend and improve your Reputation. We use over 100 Reputation, Brand, Sustainability, Purpose, and Business Outcome metrics in our framework:
Reputation Pulse score – the strength of your organisation's emotional bond with stakeholders, based on trust, respect, esteem, and good feeling
Rational perceptions of your organisation across seven key reputational drivers/dimensions and the 23 concrete factors/attributes that underpin them at an operational level
Driver analysis to reveal your strategic imperatives – pinpointing improvements you must make to meet high priority expectations and reputational strengths to defend and leverage
Perceptions of your Purpose – we measure to what degree the public believes that your organisation is improving the lives of others, performing beyond profits, acting for a better world, and benefiting society.
Brand expression and personality – to advise you on optimising your brand experiences, tone, and character
Return on Reputational activity – analysing the reputational impact and reach of each touchpoint and incremental gains of multi-channel reach to defend or improve your comms channel strategy
Qualitative analysis of open-end commentary to interpret the thought patterns behind your scores
Comparison with selected benchmarks, longitudinal trend data where available, and interpretation of your reputational position based on our extensive normative database
Leading indicators of business outcomes for your organisation across eight business-critical behavioural scenarios
Personal presentation of key insights and discussion of our strategic recommendations to improve your organisation's reputation and minimise reputational risk
The RepTrak® Framework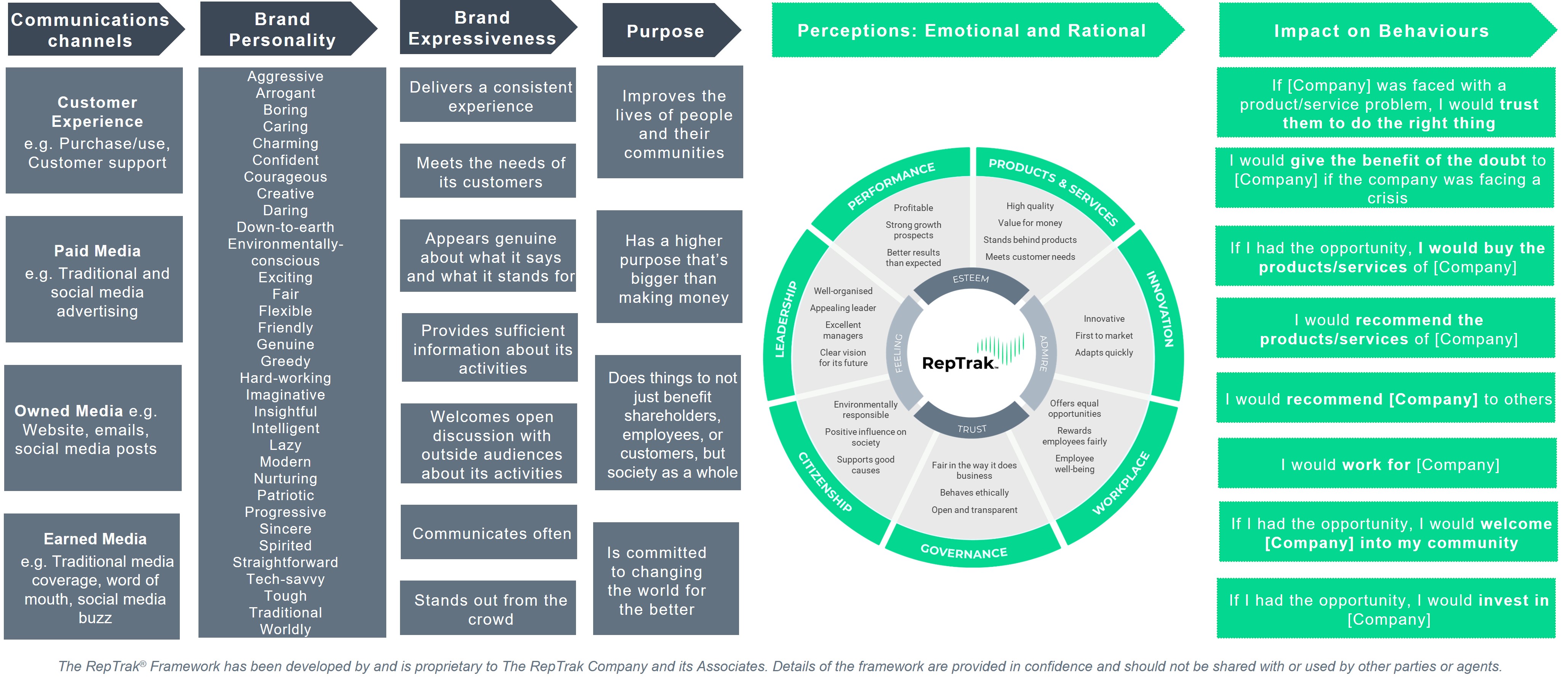 Sample snapshots from our RepTrak® for Communications Programme dashboards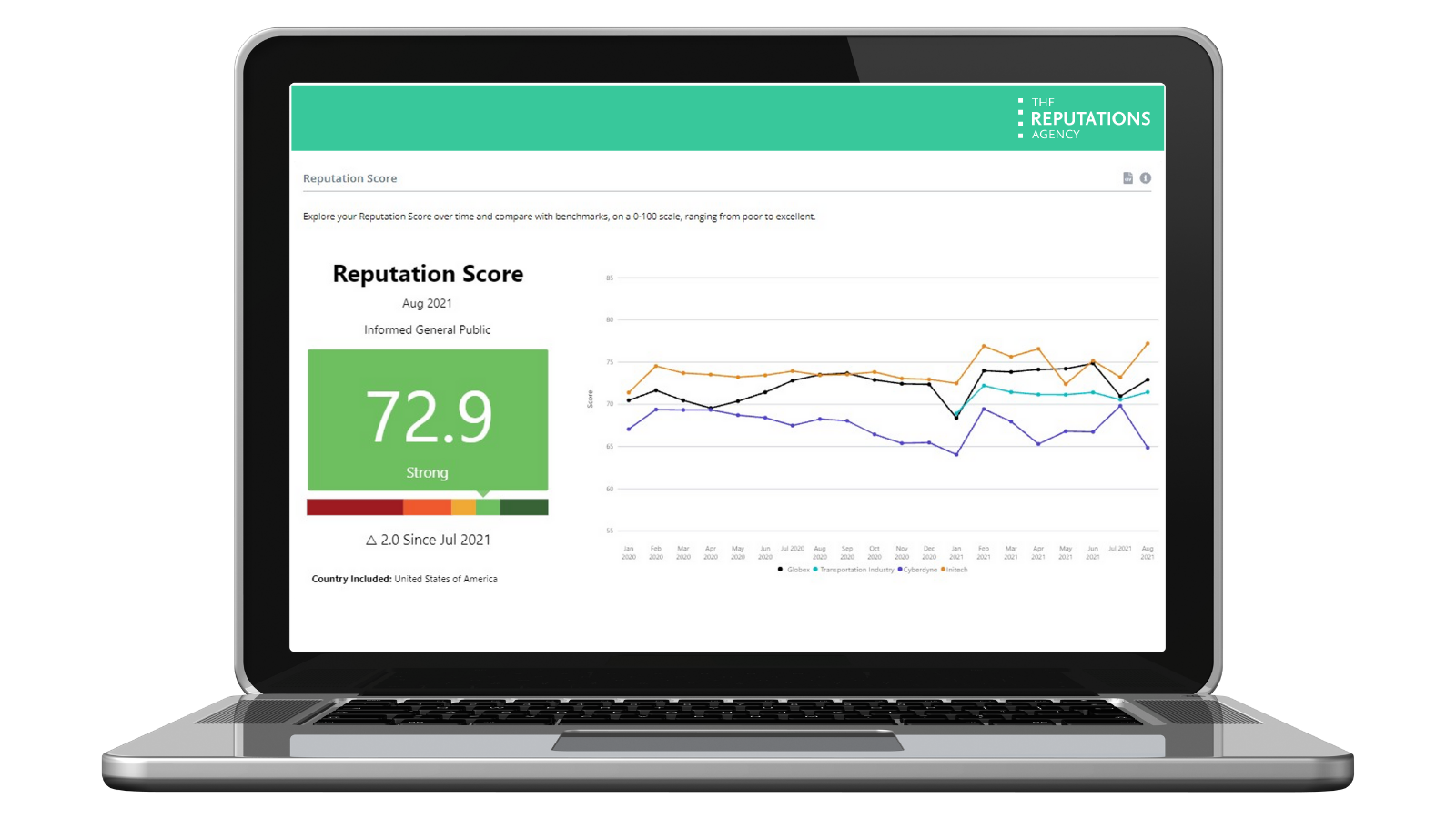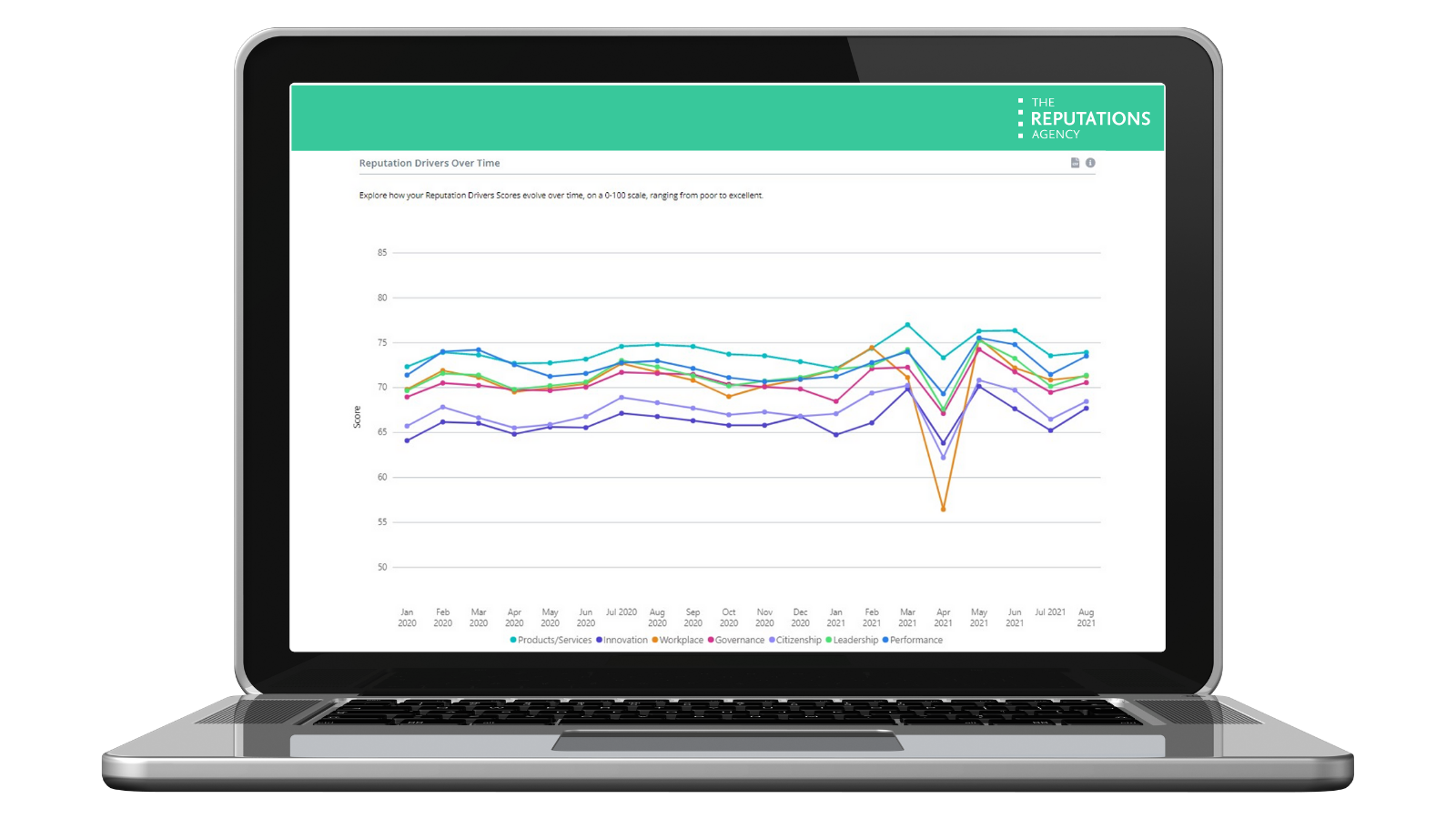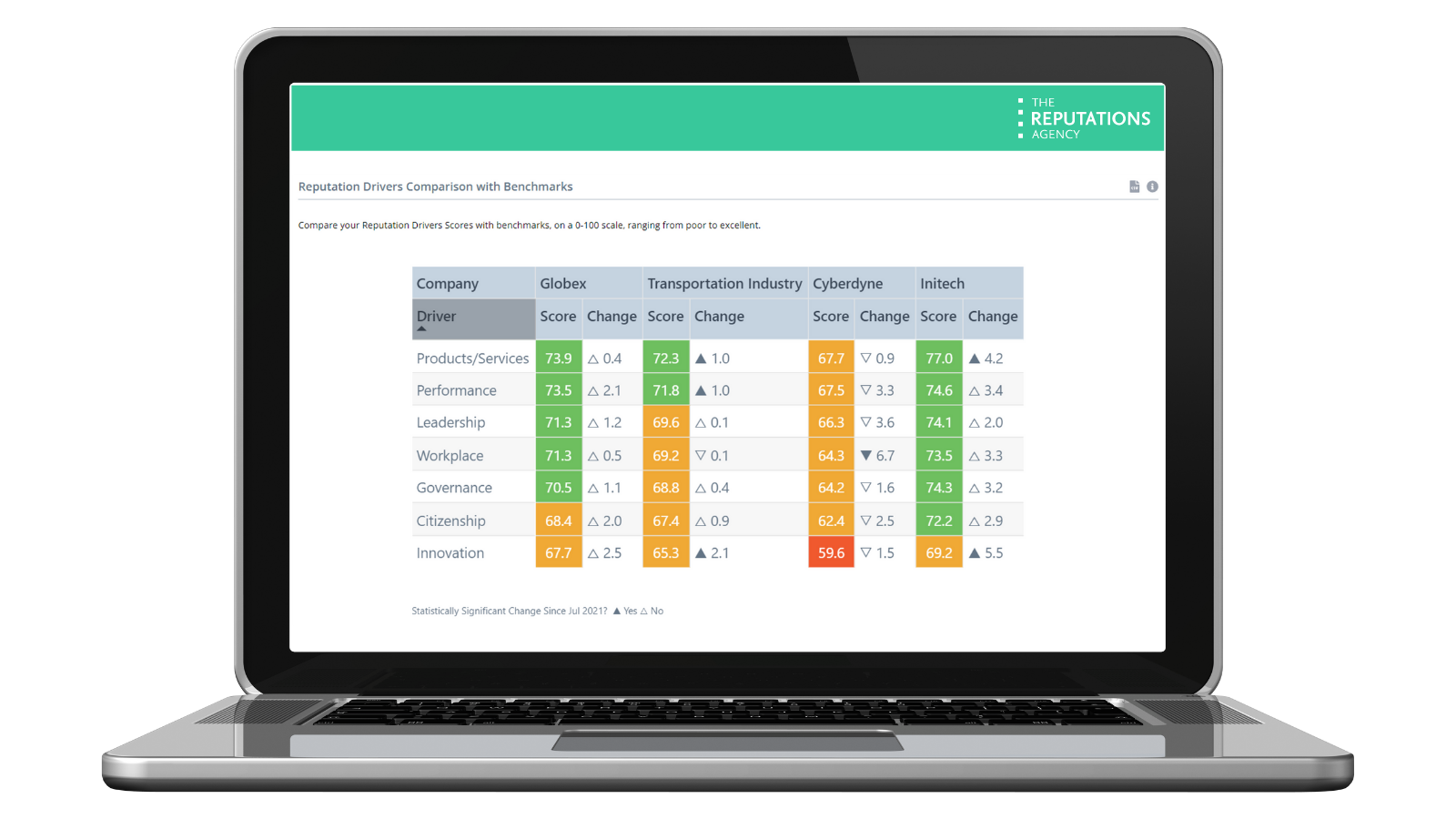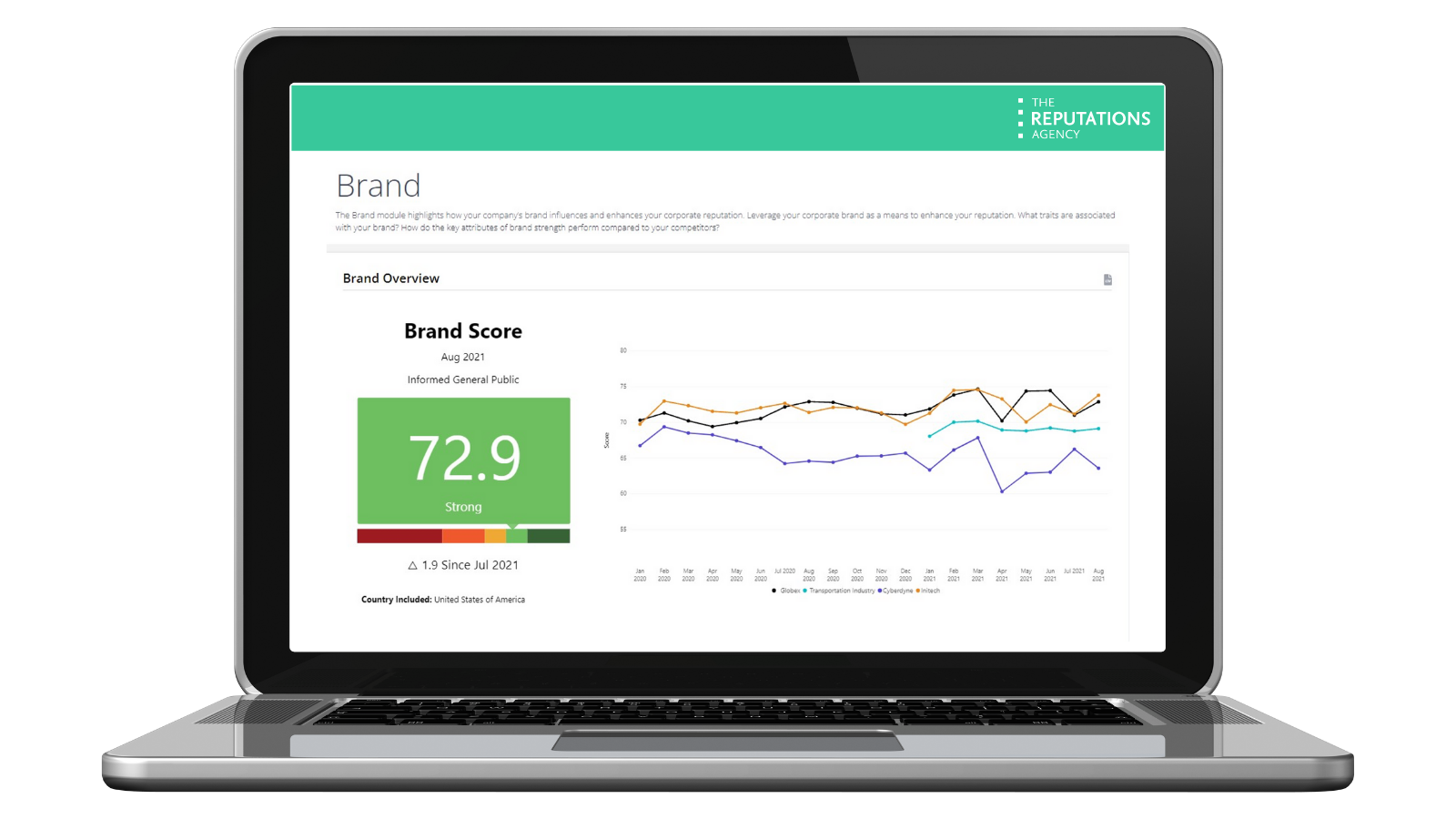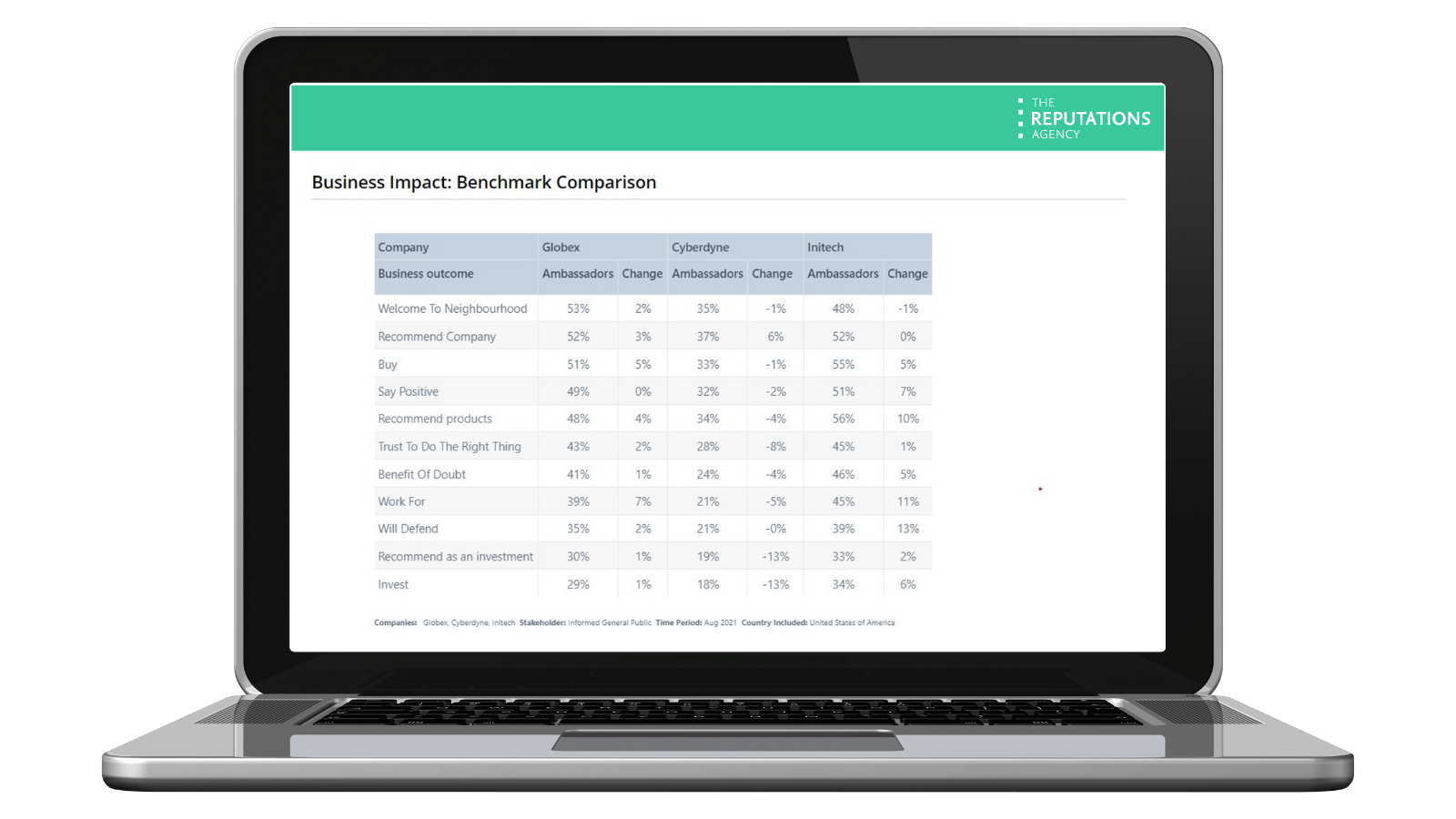 We also offer a range of reputation consultancy services including reputation strategy development, stakeholder prioritisation, and rich qualitative multi-stakeholder reputation audits among your clients, business partners, employees, key influencers, and media.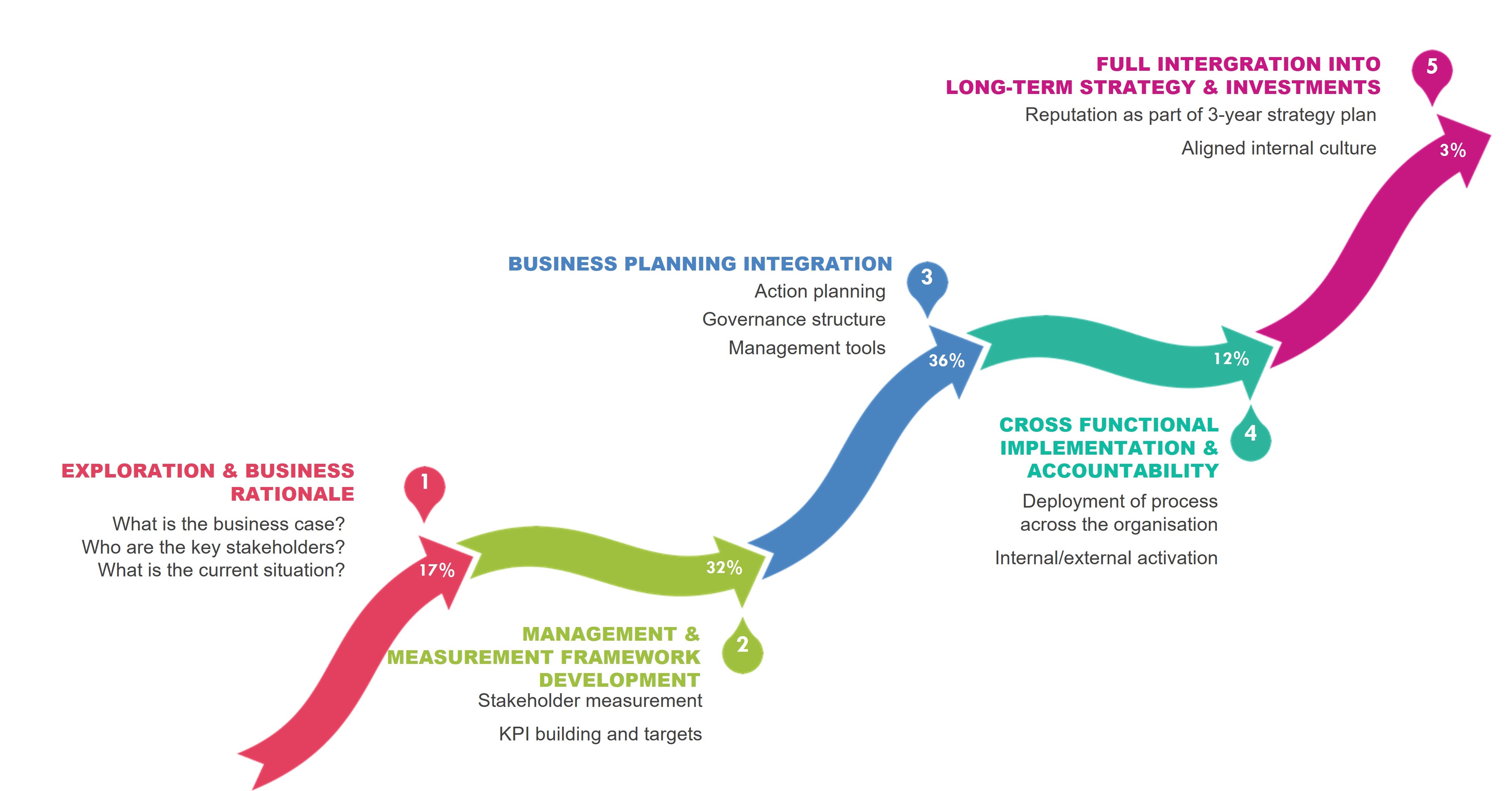 If you would like to register, set up a virtual meeting to discuss our offering in more detail or see a demonstration of the new RepTrak® for Communications Programme, please contact:
Paul McSharry paul@thereputationsagency.ie +353 87 240 6642
Marna Harmey marna@thereputationsagency.ie +353 86 356 5557