The RepTrak Platform

The world's leading cloud-based corporate reputation intelligence platform 
Introducing a new RepTrak product offering in Ireland, which combines on-demand Reputation, Brand, and ESG data, senior expert advisory support, and international thought leadership.
The RepTrak Platform is a leading reputation intelligence tool used by hundreds of The RepTrak Company's clients worldwide.  It has three components:
1) Insights - you have direct access to the latest Reputation, Brand, and ESG data on your organisation and your benchmarks, which we track continuously throughout the year. This includes all the Reputation, Brand and Business Outcome metrics in our DeepDive reports:
Reputation score – how stakeholders feel about your organisation
Reputation drivers and factors – what stakeholders think about your organisation
Driver analysis – identifies which drivers and factors to prioritise based on how much they impact your Reputation
Business outcomes – what actions your stakeholders wish to take to support your organisation across business-critical behavioural scenarios
Brand – how stakeholders perceive your corporate brand, its expressiveness and brand personality
ESG – how stakeholders assess your organisation on its environmental impact, social performance, and governance standard
Return on Reputational Activity – reach and reputational impact of your touchpoints across direct experience, paid, owned, and earned media
Immediate access to online dashboards for all metrics, updated monthly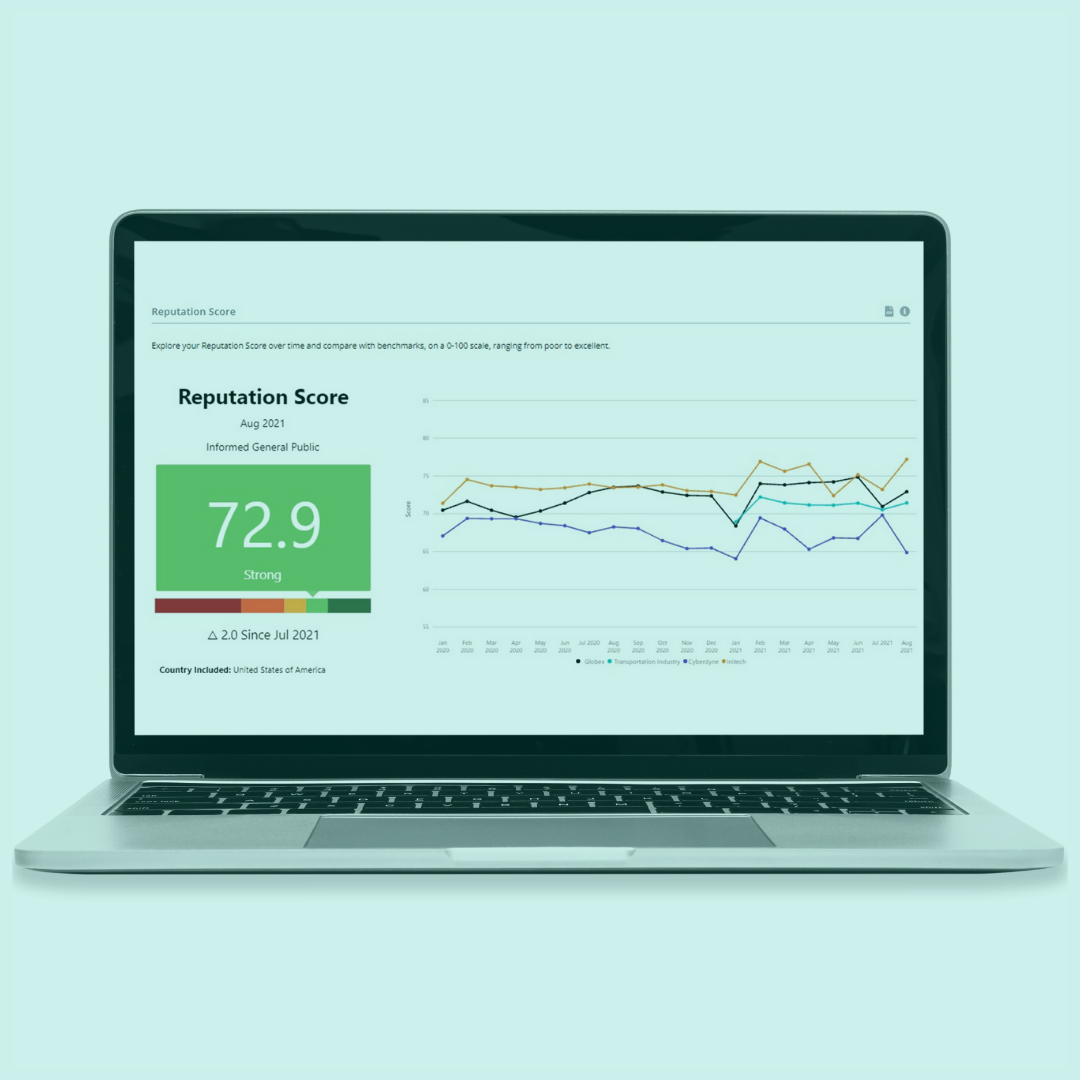 2) Advisory – Our Reputation Management experts deliver strategic guidance in personal consultancy sessions.  We add our expert perspective to your results and provide clear, actionable recommendations for your organisation to defend and build your Reputational capital. 
3) Community – Our global partners at The RepTrak company deliver an extensive digital library of exclusive international thought leadership and best practice case studies, expert-led events, business roundtable discussions, and peer learning forums.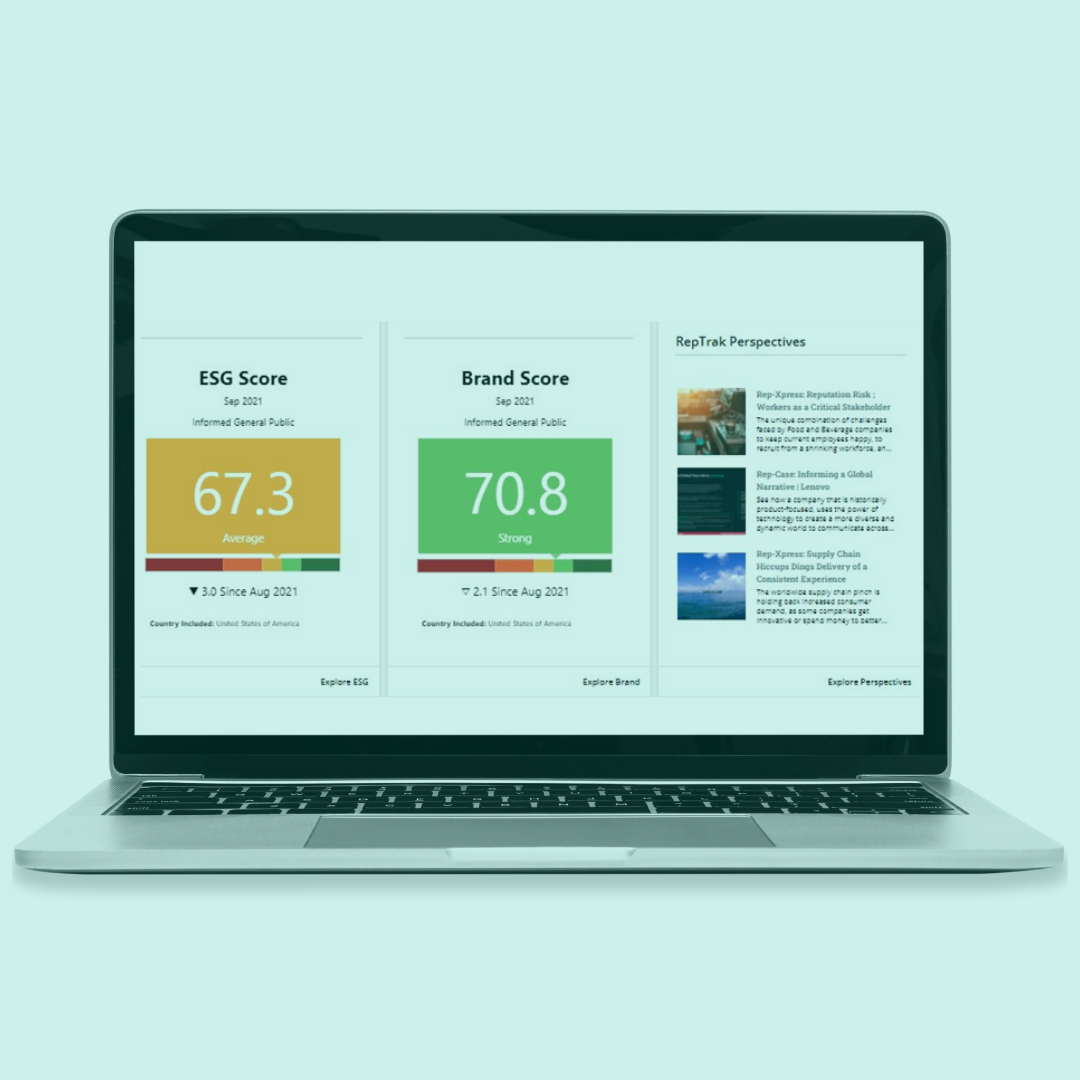 The RepTrak Platform leverages the global gold standard RepTrak methodology for measuring reputation and its business impact, and our experienced Reputation Management experts to analyse your reputational position and provide actionable recommendations.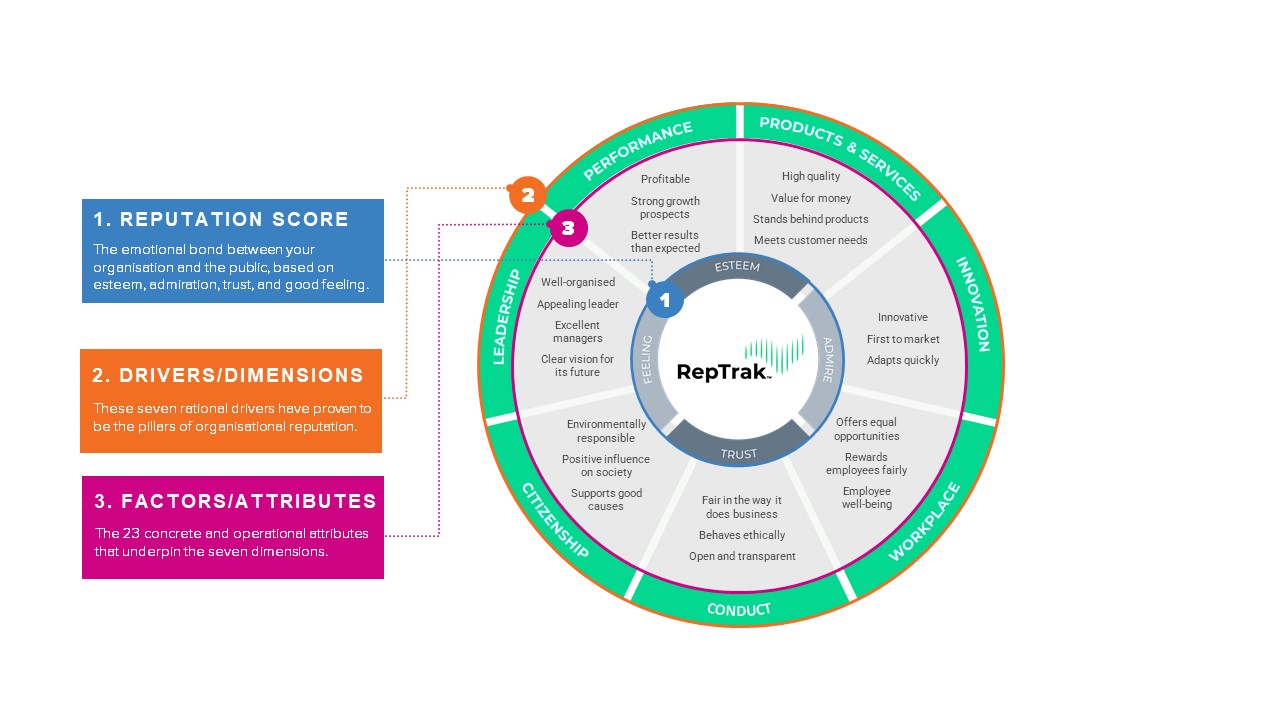 We use a nationally representative panel of adults 18+, now expanded to include over 65s.  We select only those who are very/somewhat familiar with the organisation they are rating – members of the informed general public. 
We track your reputation year round because an annual score risks creating a false sense of security or unnecessarily negative outlook.  The example below shows annual measurements in boxes, which appear quite stable for the first three years.  However, the monthly trend line beneath those boxes shows significant changes from month to month.  You need to measure continuously in order to have opportunities to make adjustments to your strategy.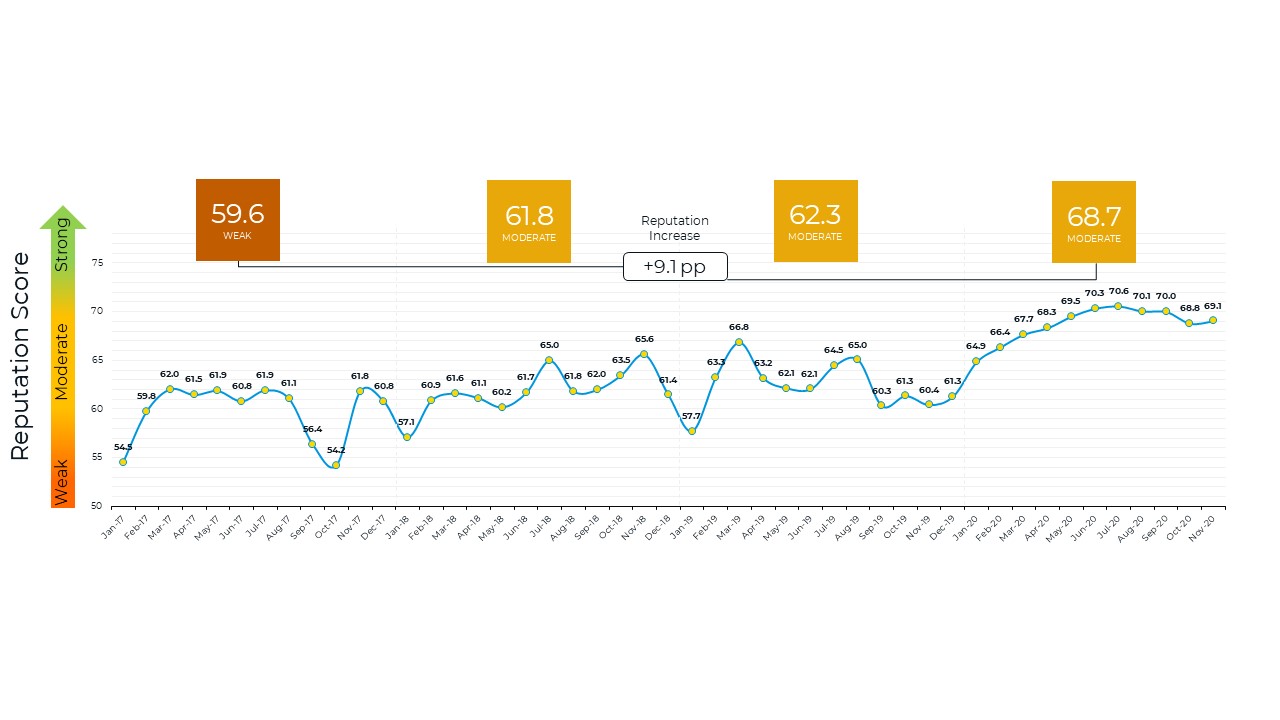 Client organisations regularly report RepTrak® KPIs at board level because Reputation is a proven leading indicator of future success.  Our research shows that propensity to buy, recommend, trust, work for, and give the benefit of the doubt all increase as an organisation improves its reputation.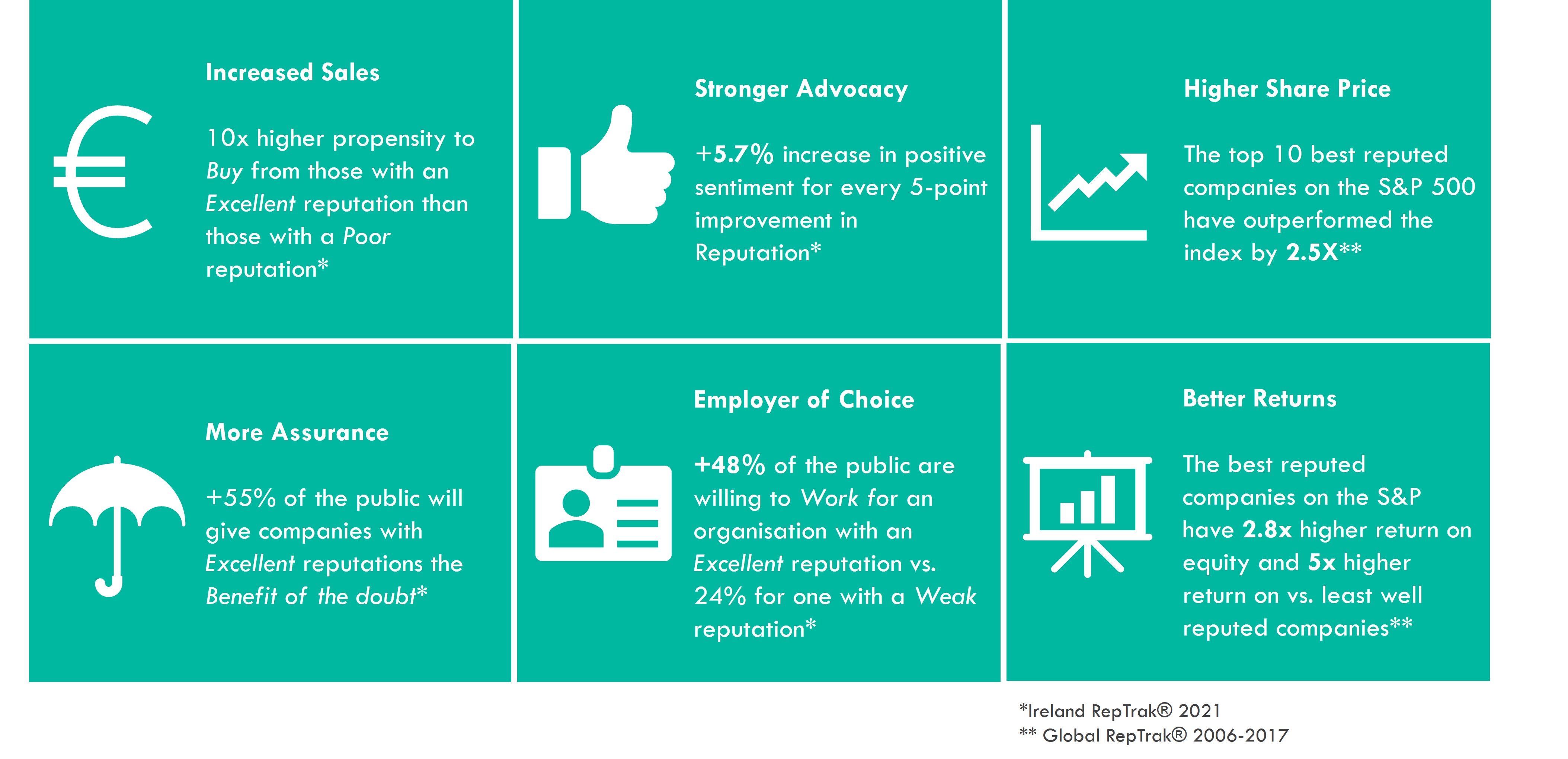 We  offer four annual subscription options that you can choose from. Each features direct online access to your data, senior advisory support, and unlimited access to exclusive global thought leadership content.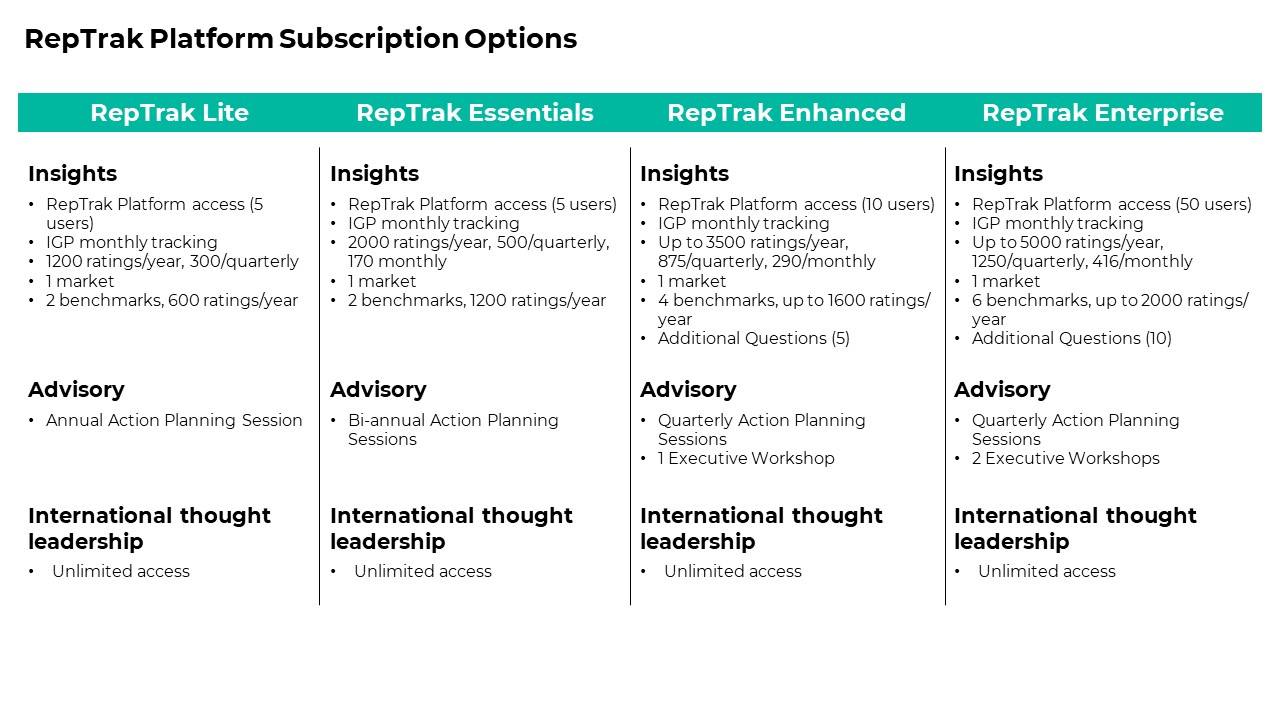 We also offer a range of reputation consultancy services including Reputation Strategy Development, Stakeholder Prioritisation, and rich Qualitative Multi-stakeholder Reputation Audits among your clients, business partners, employees, key influencers, media, shareholders and other important stakeholder groups. 
To set up a virtual meeting and demonstration, please contact: 
Rory O'Connell, rory@thereputationsagency.ie   M: +353 85 127 9854 or
Marna Harmey, marna@thereputationsagency.ie  M: +353 86 356 5557
Or leave us your details here and we will contact you.