Lidl Ireland Becomes First Retailer to Launch a Deposit Return Scheme Trial in the Republic of Ireland
Lidl Ireland has today announced the roll out of their reverse vending machines to facilitate the nation's first Deposit Return Scheme (DRS). The machines will enable customers to deposit used plastic beverage bottles and aluminium cans in return for money-back vouchers redeemable in-store. A first in the Irish retail industry, Lidl's reverse vending machines will aim to redirect 1,500 tonnes of plastic annually that will then be manufactured into new products. The trial is the beginning of a larger rollout across Lidl's store network with an ambition of having a nationwide scheme in place by 2023 in line with government objectives.
The reverse vending machines are simple to use and will accept both plastic PET drinks bottles and aluminium cans purchased at Lidl and in other retailers. For every unit deposited a customer will receive a €0.10 voucher in return with a maximum voucher limit of €2. The machine can collect and process up to 17,000 units a week which is representative of approximately 1,500 tonnes in a year when rolled out to Lidl's 170 stores nationwide.
The move underscores Lidl's position as an industry leader in sustainability, ensuring Ireland delivers on its promise to implement the Irish Government's Waste Action Plan for a Circular Economy with a simple, cost effective solution. Following an initial trial period in Lidl's Glenageary store, the retailer plans to roll out the machines to its wider store network across the country, which is sure to allow Lidl's 1.5 million weekly customer base lend itself as the perfect test bed for intelligence gathering ahead of the legislative changes due in 2022.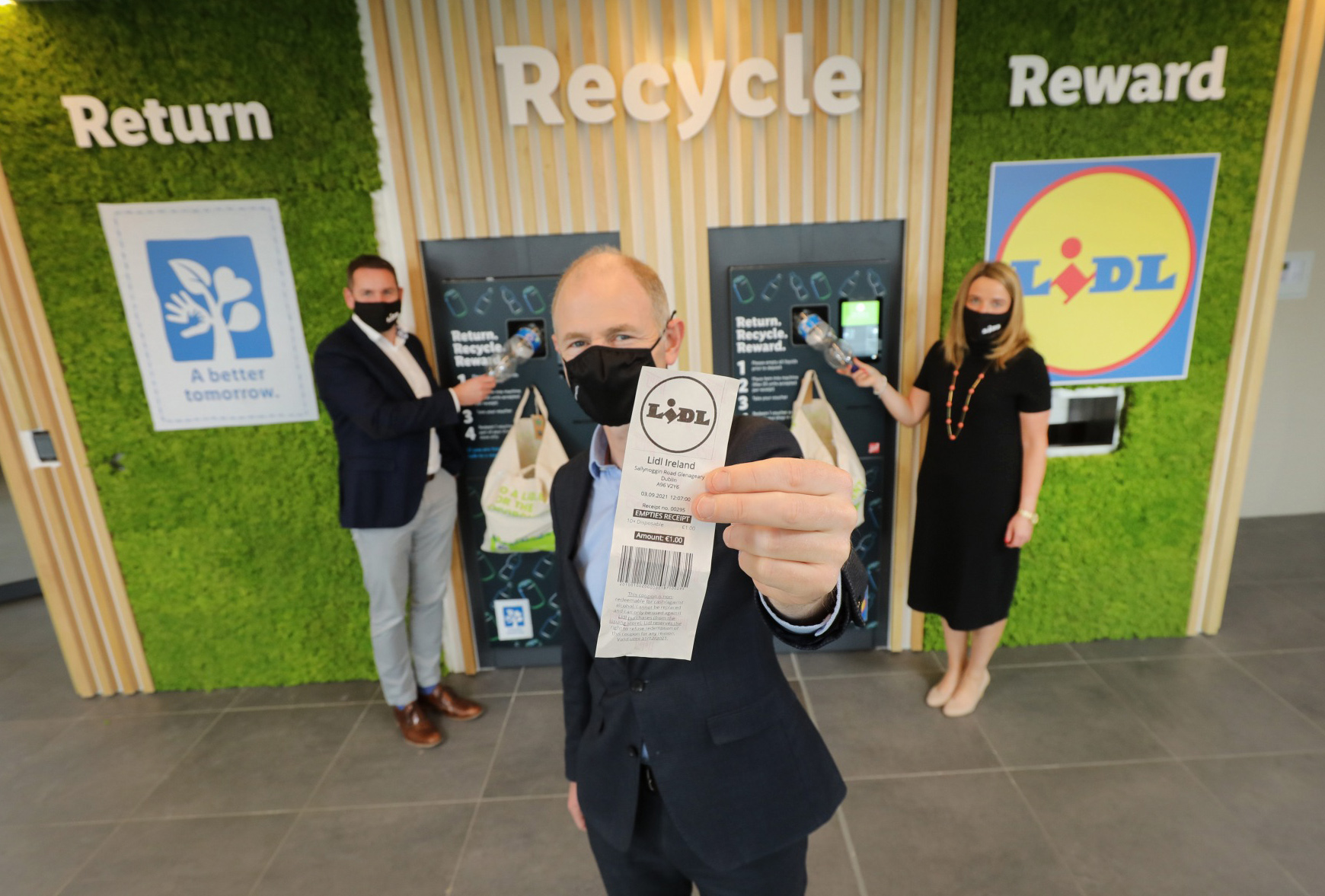 Commenting at the launch, Eamon Ryan TD, Minister for the Environment, Climate and Communications said: "The support of the Irish public, and a willingness to adapt behaviours, will be essential if we are to successfully transition to a circular economy in the coming years. The reverse vending machine, which Lidl is launching today as part of a pilot Deposit and Return Scheme (DRS), is a welcome development. It will enable the public to interact with a live Deposit and Return Scheme system, while providing valuable feedback that will help in the roll-out of a nationwide Government-led scheme next year.
"A successful Deposit and Return Scheme will not only help us to reach ambitious recycling targets and to reduce litter but will foster the behavioural changes we will need to make a transition to a circular economy. I will sign the Regulations for the nationwide Government-led scheme in the coming weeks. In the meanwhile, I wish Lidl every success with this initiative."
Speaking at the launch of the trial, J.P. Scally, CEO of Lidl Ireland and Northern Ireland said: "Sustainability is at the core of our business, and we are exceptionally proud to be first-to-market with this industry leading approach to a Deposit Return Scheme. As a retailer with a significant footprint across the country, we have an opportunity to drive real change where consumer habits are concerned, and hope that our trial will help to support and inform other retailers, large and small, in their efforts to roll out the nationwide scheme in line with legislative changes in 2022.
We have already made significant progress against our own targets of an overall plastic reduction of 20% across our own-brand packaging by 2022 by substituting all single use plastic items such as drinking straws, disposable cups, glasses and plates with non-plastic alternatives. We have also removed all plastic microbeads from our own-brand cosmetics and household cleaning products. By the end of this year we are committed to eliminating all non-recyclable black plastic from our own-brand products.
Our proactive approach to plastic reduction coupled with this latest DRS initiative underscores our commitment to being the most sustainable supermarket in the country."
The announcement comes as Lidl Ireland has committed to becoming a carbon neutral business by 2025 at its recent unveiling of its Sustainability Report 2019/2020. Lidl has already taken significant steps in helping to promote the importance of a sustainable future with consumers, including becoming the first retailer to launch customer recycling points in stores nationwide in 2019. The report outlines Lidl's progress to date on its plastic packaging targets including eliminating all single use plastic items such as drinking straws, disposable cups, glasses and plates which have been replaced with non-plastic alternatives. Furthermore, all plastic microbeads have been removed from Lidl's own-brand cosmetics and household cleaning products. By the end of 2021 Lidl is committed to eliminating all non-recyclable black plastic from their own-brand products and has already removed black plastic from fruit & veg, fresh fish, cured meat and the majority of fresh meat and poultry, converting almost 500 tonnes of plastic into fully recyclable packaging. By 2025, 100% of Lidl's own-brand packaging will be widely recyclable, reusable, or renewable and 50% of the materials used in own-brand packaging will come from recycled materials.