An Post Eliminates Gender Pay Gap
An Post marked the reduction of their gender pay gap from 3.7 percent to zero percent over the last two years at a "Zero Pay Gap - Women Leaders for the Future" event today.  The organisation also launched their new An Post Green Institute which aspires to create a world-class learning environment to develop leadership and management skills for a sustainable future for An Post and its people. 
Congratulating An Post, Tánaiste Leo Varadkar said: "An Post is at the vanguard of efforts to eliminate the gender pay gap in workplaces. In the space of two years the company has brought the gap to zero. I congratulate An Post on showing leadership and ambition. The gender pay gap in society is unjustified and unfair and needs to be closed in every workplace.  Well done to An Post on taking the lead at company level. Many other companies are striving to set a similar example and I urge them to proceed as quickly as possible. The Gender Pay Gap Act initiated by the last Government and enacted by this Oireachtas will be a catalyst for more companies to achieve what An Post has achieved."
Commenting on the An Post results, Minister of State at the Department of Transport, Hildegarde Naughton T.D.  said "An Post's achievement in reaching a zero gender pay gap is impressive and in line with the transformation of their business over the past five years. This milestone, along with An Post's initiatives to encourage more female participation and progression into senior roles in the company, shows what can be achieved with ambition and focus."
Speaking at the event, David McRedmond, CEO, An Post said "This is fantastic result and shows what can be done when you make big moves to promote equal opportunities.  We are guided by our purpose, to act for the common good, now and for generations to come, and by our commitment to the UN Sustainable Development Goals of Decent Work. The Unions have been a positive force in ensuring men and women are paid equally and have supported our drive to have more women in senior management.
He added "Over the past five years we've been going through a transformation and moving to a new world of eCommerce and financial services. To do this, we need to skill-up and to have world-class leadership team. Our Greenlight Strategy, which we launched earlier this year, is about building a sustainable future for our business and our people, making big moves to both build the right skills and to promote equal opportunities. Our new An Post Green Institute launched today is about our commitment to lifelong learning and ensuring that we have the right skills for the future. The journey doesn't end here, we want to leave an enduring mark and encourage more women to join An Post so that we have gender presentation and balance at every level."
Also speaking at the event, Eleanor Nash, Chief People Officer said: "Traditionally, our sector is more male oriented and to overcome this, we launched several initiatives to encourage more female participation and progression into senior roles at An Post such as encouraging female colleagues to put their hand up for opportunities to progress, using new software to remove gender bias from role profiles, developing gender balanced shortlists, promoting flexible working arrangements and developing Aspire, our Female Talent Acceleration Programme; Advance, our An Post Mentoring Programme and our flagship customised Strategic Leadership Development Programme."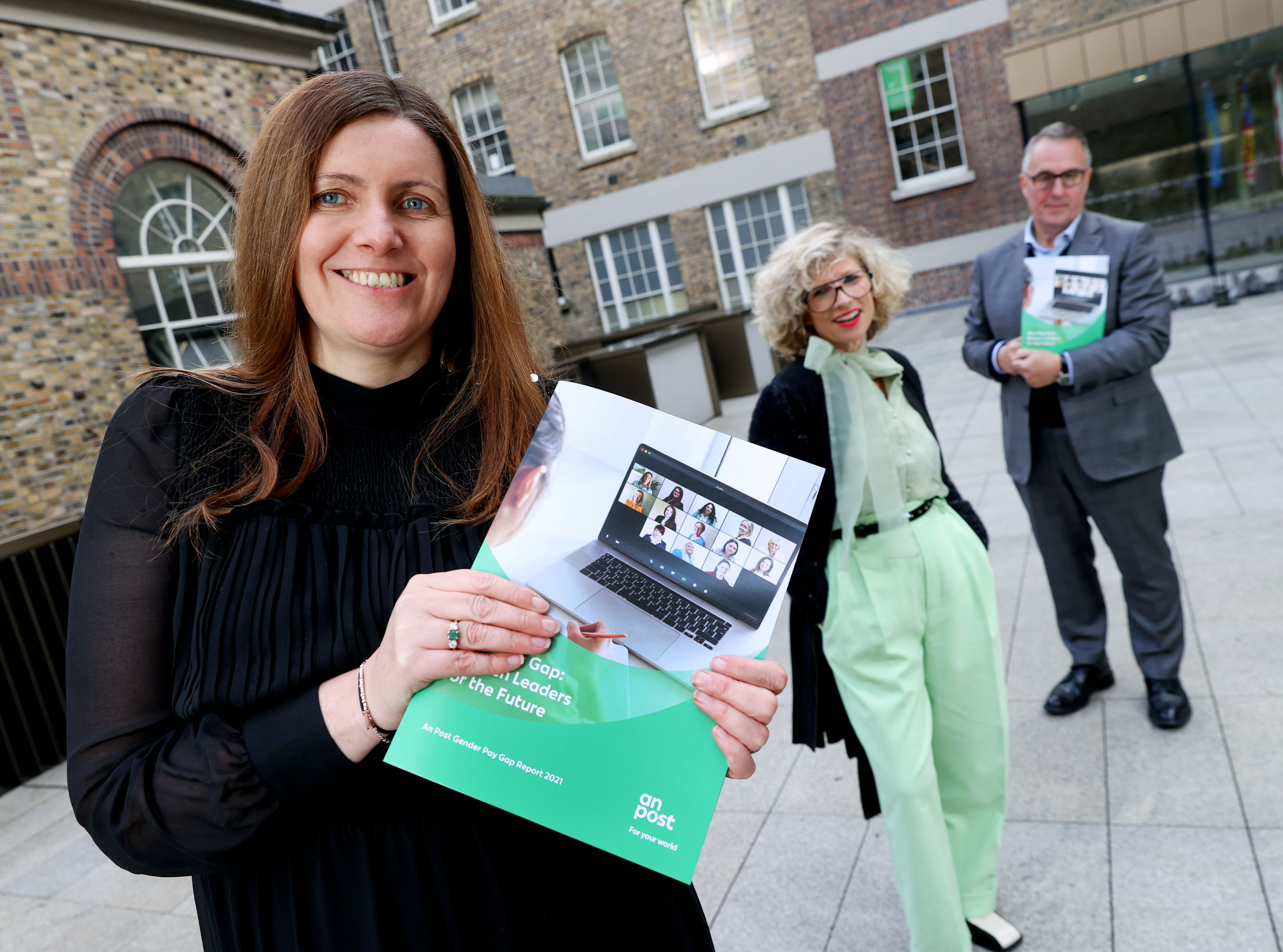 Gender Pay Gap
In October 2019, An Post took the step of launching their first Gender Pay Gap Report publicly at the GPO, ahead of government legislation which was introduced in July 2021. This was guided by An Post's purpose and commitment to the UN Sustainable Development Goal of Decent Work.  In 2019, although there was a gap of just 3.71%, the An Post senior management team and An Post Group of Unions were ambitious to achieve more. Through an active strategy to encourage and provide opportunities for women to take up more responsibilities, the gender pay gap was reduced to 1.41% in 2020 and effectively zero percent (-0.16%) in 2021. This compares to a 11.3% gender pay gap across Ireland. For the first time, women are earning marginally more than men at An Post. The organisation aims to retain the gender pay gap in a range between +/- 3 per cent in the coming years.
The Gender Pay Gap is the difference in the average hourly wage of men and women across the workforce at An Post and is based on every employee working for An Post from 1st July 2020 to 30th June 2021. The mean or average gap is -0.16% in 2021, while the median gap is 3.75%. An Post identified a mean or average gender bonus gap of 11.21% while carrying out its research due primarily to fewer females in the An Post Management Group and the legacy of females staying on the pay scale instead of transferring to the An Post Performance-related Pay scheme. An Post will be focusing on reducing these gaps.
Gender representation at all levels is a critical part of An Post's strategy. The organisation has reached a 50:50 level on their management board, 45:55 on their Graduate programme, 39:61 in Process Area Managers (a three-fold increase in females since 2019), and 34:66 across their senior management group. An Post is now focused on increasing the level of female postal operatives, which currently stands at 13%. A new campaign to recruit more female postal staff, will be launched shortly, encouraging more applications from women, and showcasing the benefits of the role and why it could be an option for them.  
An Post is committed to providing high quality, flexible, efficient and sustainable employment, meaning no Zero Hour contracts are offered. An Post's Term Time option for those with children which allows them to take unpaid leave over the Summer months, was taken up by 800 (one in eleven) An Post staff in 2021,  of which 57% were male and 43% were female.
An Post Green Institute
Launched today, the An Post Green Institute enables leaders and managers to avail of an extensive portfolio of opportunities with leading institutions in Ireland, such as the UCD Professional Academy, a customised Strategic Leadership Development Programme at IMI;  the Aspire Female Acceleration  Programme with Talking Talents;  financial services programmes at UCD/Institute of Bankers, and the Advanced Mentoring  programme with the Future of Work Institute as well as globally, Business Analytics and Disruptive Strategy programmes with Harvard Business School Online and Digital Transformation, Innovative Disruption and Design Thinking programmes with INSEAD online.