Niall Gibbons, CEO, Tourism Ireland, Most Influential Irish Leader on Social Media for Third Year
For the third year in a row, Tourism Ireland CEO, Niall Gibbons has emerged as the most influential Irish leader on social media, according to the third Social CEO Report released by strategic reputation and communications firm The Reputations Agency.
The Social CEO 2022 Report ranks the top Irish CEOs according to influence on social media. Three key metrics were applied to decide the ranking – Popularity, the number of connections the CEO had built up; Engagement,  the number of likes, reactions and comments received;  and Activity  - the number of posts CEOs published.
The report highlights the critical role leaders can play in communicating on behalf of their organisations and reveals that close to one in two CEOs are not communicating on any social media channel.  Niall Gibbons, who recently announced his retirement from Tourism Ireland after 21 years of service, will be stepping down from his role this week. The study highlights the level of movement over the last six months amongst business leaders post-Covid, with eight of the top twenty leaders moving to another role in the latter part of 2022 and early 2023.
The release of the report marks the third year of the agency's Leaders Reputation Programme, a three-month leadership communications programme, designed to empower and build confidence in business leaders to communicate and advocate for their organisation externally. The programme consists of four building blocks - the role of leadership in reputation management, social media training, preparing for media interviews and a national media profiling programme.
 The Social CEO 2022 Report analysed the social media activity and LinkedIn profiles of 100 CEOs and explored those CEOs who are maximising LinkedIn as a tool to communicate their own organisation's purpose, business news, peer and team recognition and elevate their organisation's corporate reputation. The study showed that LinkedIn, as the largest professional network on the internet, was the social media channel of choice for chief executives, with 83% of the 100 leaders in Ireland examined having an account.  However, only 59 CEOs posted in 2022, up from 55% in 2021 and 38% in 2020.  Just 16% of CEOs had a Twitter account in 2022 versus 22% in 2021.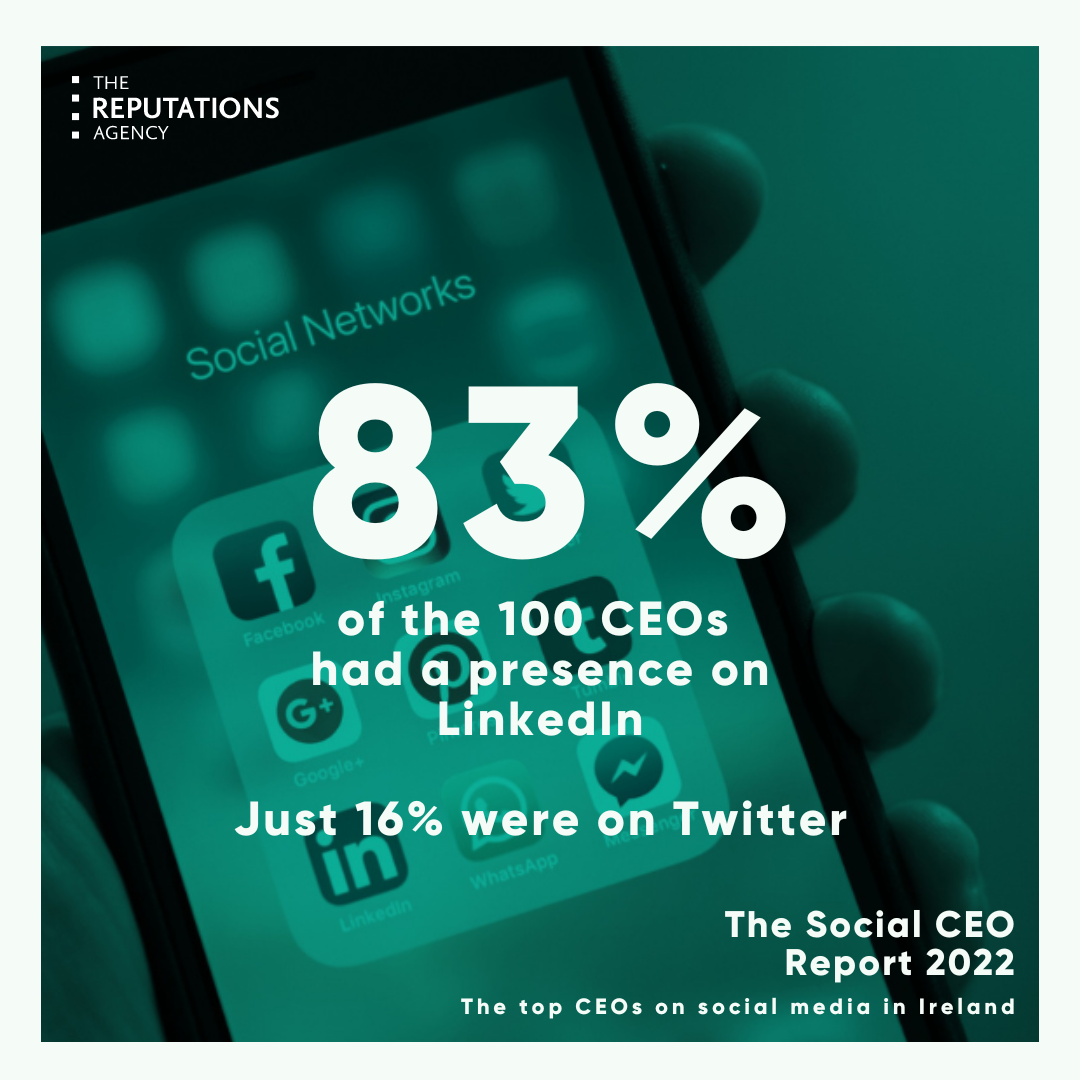 The Social CEO Report 2022 - Top 10 overall  
Niall Gibbons, CEO, Tourism Ireland, emerged the most productive and appealing CEOs on LinkedIn over the last three years. He continued to grow his LinkedIn connections to close to 25,000 over the year, posting over 140 posts during 2022 with an average of over 300 likes/reactions from his connections for each post.  As a renowned leader in the tourism sector which faced huge challenges and uncertainty due to the pandemic, Niall Gibbons continued to champion Tourism Ireland and was highly praised for the vibrancy and optimism of his narrative in promoting the island of Ireland overseas, the quality of the engagement across his connections and the highest level of overall engagement from his followers.
Anne O'Leary, who has since moved to Meta as VP, Global Business Group, with an audience of over 20,000 connections, posted over 30 times during the year, and with an average engagement level of close to 600 likes/reactions per post took second place in our study. 
Of the top ten Social CEO posts, 96% used rich visuals, with 83% using an image, while 13% of posts used video content and 37% of posts featuring the CEO, in imagery and/or content.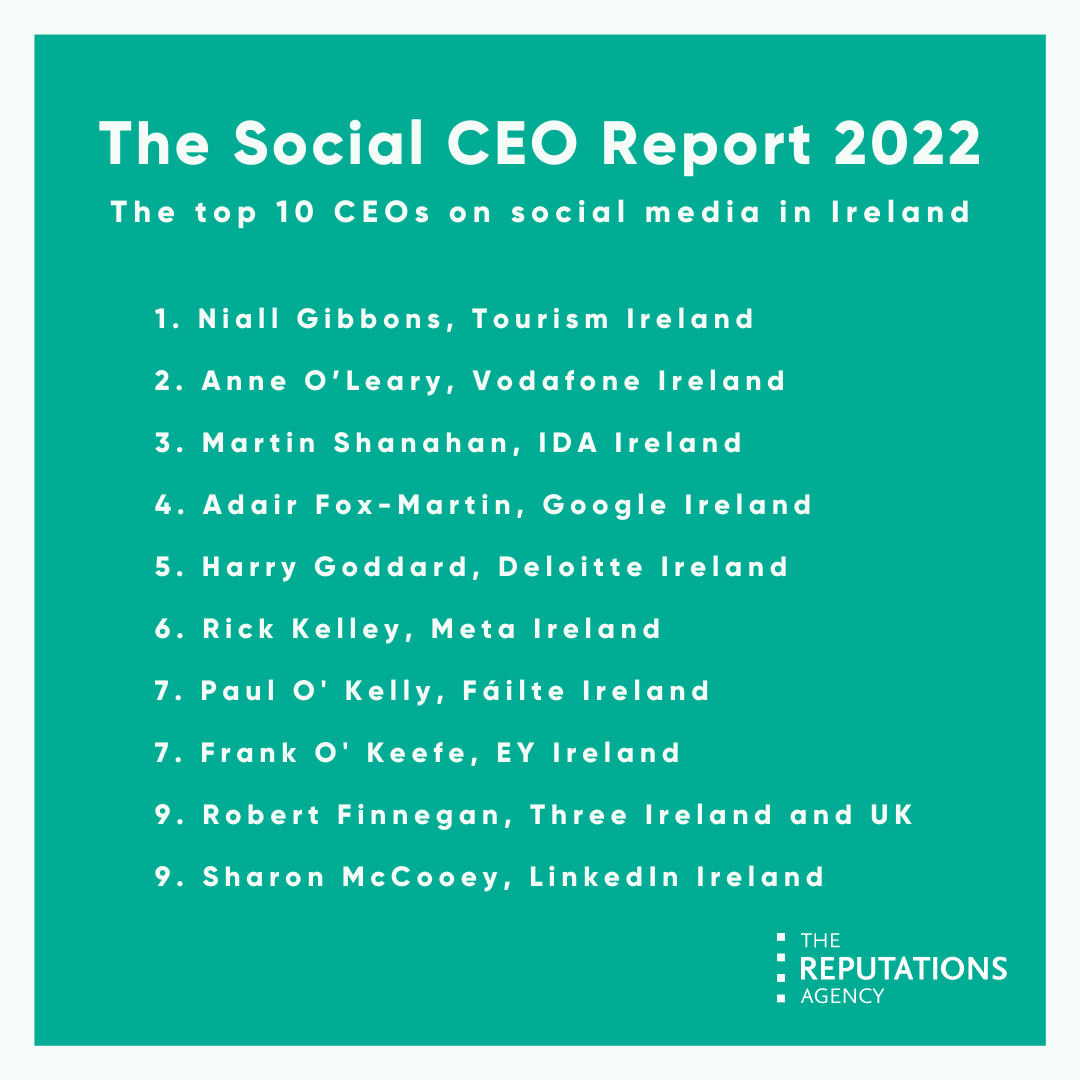 Irish vs Multinational Company leaders - Leaders of Indigenous Irish organisations account for three of the top ten and 14 of the top 30 positions. Irish semi state bodies were strongly represented amongst the Irish cohort, with their CEOs taking nine of the top 30 positions, led by the CEOs of Tourism Ireland, IDA Ireland, Fáilte Ireland, An Post, Bord Bia, Central Bank of Ireland, Enterprise Ireland, RTE and Coillte, in order of ranking.  
Females played a stronger communications and engagement role than males proportionally. While it was disheartening to see that just 14 of the 100 organisations measured were led by women, down from 17 in 2021, nine of the top 30 in our study were female leaders (30%) with Anne O'Leary, former CEO Vodafone; Adair Fox-Martin, former Head of Google Ireland; Francesca McDonagh, former CEO Bank of Ireland; Sharon McCooey, LinkedIn;  Anne Sheehan, Microsoft; Tara McCarthy, former CEO, Bord Bia; Lisa Brankin, Ford;  Dee Forbes, RTE, and Imelda Hurley, Coillte taking top thirty positions.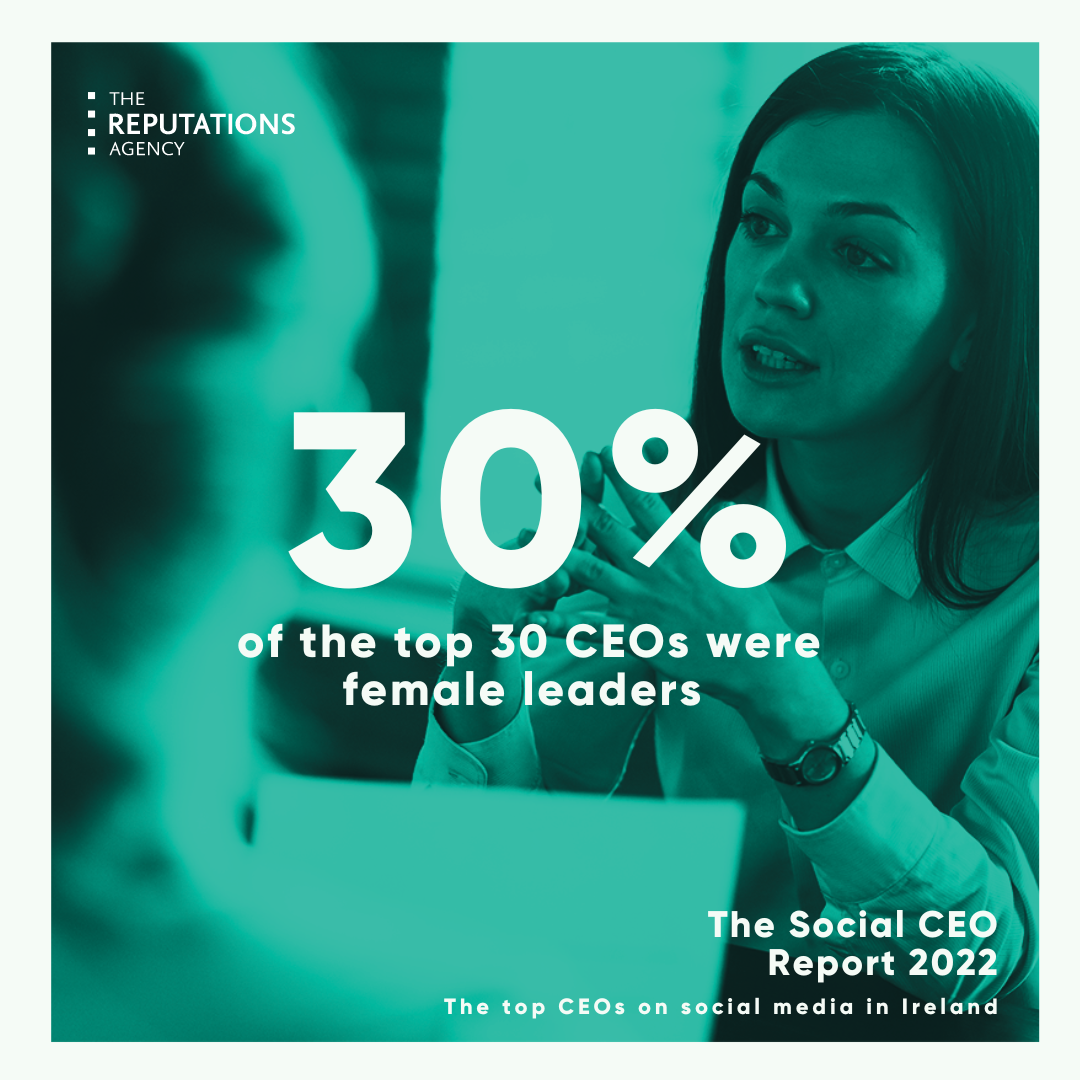 Leaders of social media firms played their part in leveraging these digital platforms to build corporate reputation. Interestingly Meta CEO Rick Kelley took 6th place, while LinkedIn CEO Sharon McCooey took joint 9th place in our 2022 study.
The biggest leaps were made by Jon Woods, General Manager, GB, Ireland and Northern Europe, The Coca Cola Company, and Gabriel Makhlouf, Governor, Central Bank of Ireland this year, moving up 31 and 29 ranking places  to take 15th and 24th place respectively.
There was a huge range in activity between the CEOs studied. Of the 59 CEOs who were active on LinkedIn, they each posted an average of 24 posts in 2022, receiving an average of 9 comments and 223 reactions for each post.  The numbers of posts ranged from as high as 228 posts over the course of eleven months in one CEO's case, to as low as just one post in the year amongst seven of the 59 CEOs deemed active in 2022.
The three most highly connected CEOs were Niall Gibbons, Tourism Ireland close to 25,000 connections in 2022, followed by Anne O'Leary, Vodafone with 20,000 and Adair Fox-Martin, Google Ireland with 19,000.
Engagement levels were high amongst the winners.  Niall Gibbons had the highest level of engagement over the course of eleven months with close to 47,000 likes, reactions and comments amongst his community, followed by EY's Frank O'Keefe with 27,000, Vodafone's Anne O'Leary with 20,000, IDA's Martin Shanahan with 19,000, and Deloitte's Harry Goddard at 15,000.  
Well-executed social media strategies
Of the 100 analysed, 30 CEOs were found to have a well planned and executed social media strategy that maximised their connections and their content to elevate their organisation's vision and purpose.  96% of the top 10 CEOs used rich visuals to get their message across using either imagery (83%) or video content (13%) and understanding how to best use relevant and engaging content to connect with their audience.  LinkedIn is the social media channel of choice for CEOs given its popularity in the professional community as an undeniably safe space to communicate. The CEO featured in 35% of the 59 active CEOs, increasing to 37% amongst the top ten winners.  
Of the 59 active CEOs, one in two posts came from the top ten winners, who between them had close to 700 posts - more than one post for each week of the year.  77% of posts came from the top thirty, while just 23% came from those placed between 31st and 59th place, with an average of 11 posts each over the year.
Drivers of reputation  
Among the top ten CEOs, just 2% of the posts related to the pandemic in 2022 compared to 27% in 2021 and 46% in 2020, while 3% of posts related to the situation in the Ukraine and just 2% related to rising costs of energy and living expenses, interest rates and inflation.
48% of Top Ten CEO posts related to Citizenship in some way, involving stories about environmental responsibility, supporting good causes and being a good influence on society. 
While posts could carry several themes, Citizenship initiatives were covered in close to one in two posts, showcasing their organisation's positive influence on society such as advancing agendas to move society in a more positive direction, environmental responsibility or supporting good causes.  Examples include Niall Gibbons, Tourism Ireland championing Ireland as a place to visit overseas, highlighting the importance and strength of North South relations on the island of Ireland,  and highlighting important business leaders meetings across continents and presenting beautiful imagery of Ireland.
Following 14 years at Vodafone, Anne O'Leary moved to Meta in H2 2022. While with Vodafone her posts focused on Vodafone's commitment to sustainability and building inclusive communities, encouraging work life balance amongst her team at Vodafone, safeguarding content for children and supporting the Irish Rugby Team. 
Company Products & services were covered in 35% of posts while the internal workplace was covered in 33% of posts. 19% were related to Conduct portraying open, transparent, ethical, and fair organisations, while Innovation related posts amounted to 16% of posts. 23% of posts were related to the Leadership of the organisation and 14% of posts were related to the topic of Performance.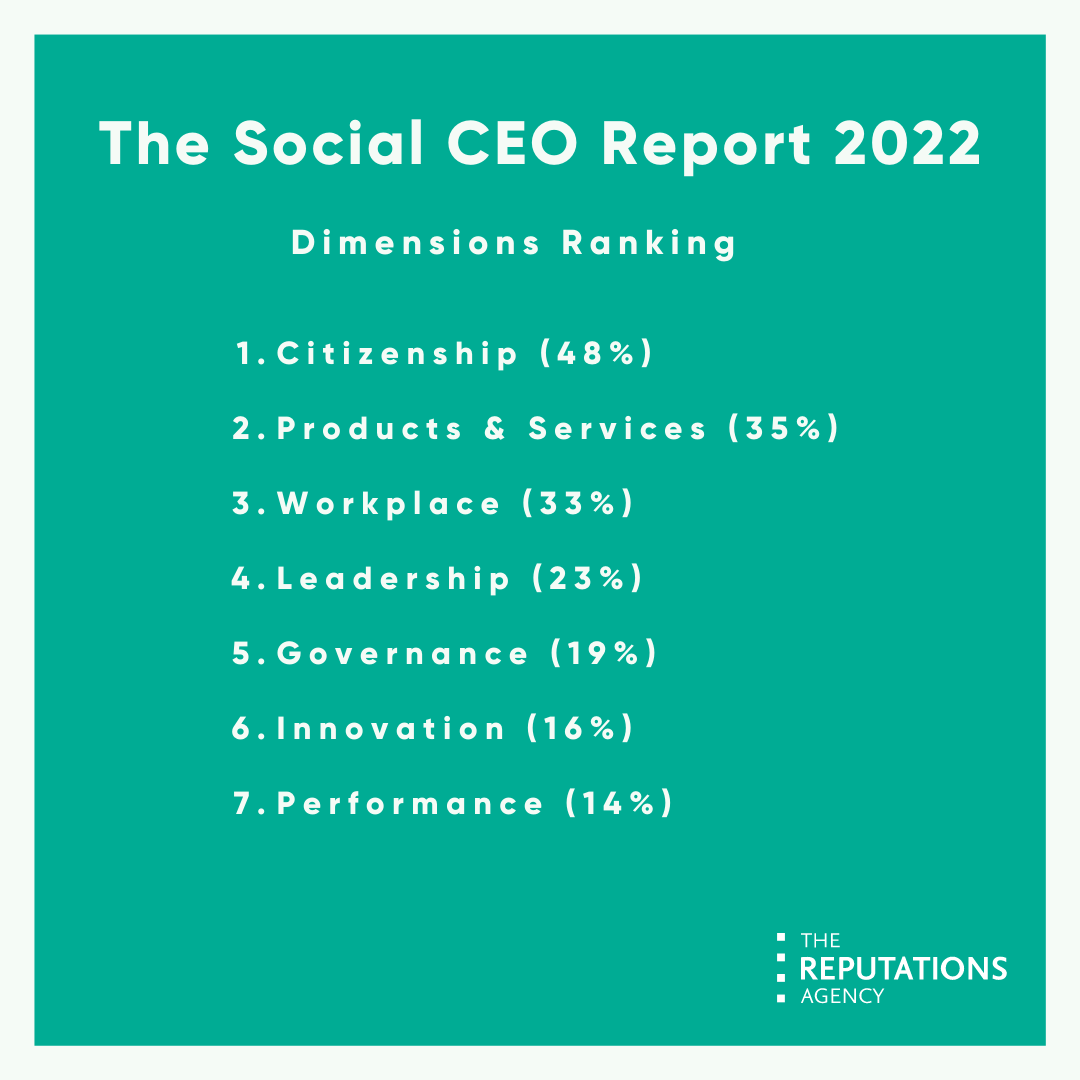 Speaking about the results, Niamh Boyle, Managing Director at The Reputations Agency said:
"Leaders are an important conduit for enterprises to communicate about their organisations, articulating a clear and compelling corporate vision and sense of purpose. A leader who can communicate openly, authentically, and transparently can help win the hearts and minds of their stakeholders. Organisations whose leaders can show that at their core they exist not just for profit but have a strong sense of purpose, will win in the reputation stakes, gaining exponentially more backing from their key stakeholders. LinkedIn and Twitter were examined because they are the most used of corporate communications platforms, but when we dug deeper, LinkedIn was the ultimate channel to focus on for our rankings given its space as a professional community. It remains an undeniably safe space to communicate on and elevate your organisations' corporate reputation."
For more information on the agency's Leaders Reputation Programme